When logging into the game, players should in most cases be greeted with a number of options of space ports that they can select as their starting spawn location. However at times something has happened that may cause the lack of any space port options at all, as shown on the screenshot to the right.

In this case, there are a few situations and issues that might be causing the lack of space port selection options.
Location Already Selected
In this case, the player has previously selected a starting location and so they will be presented with a summary of the selected place and an option to Visit Location. Click this to enter the universe and continue playing.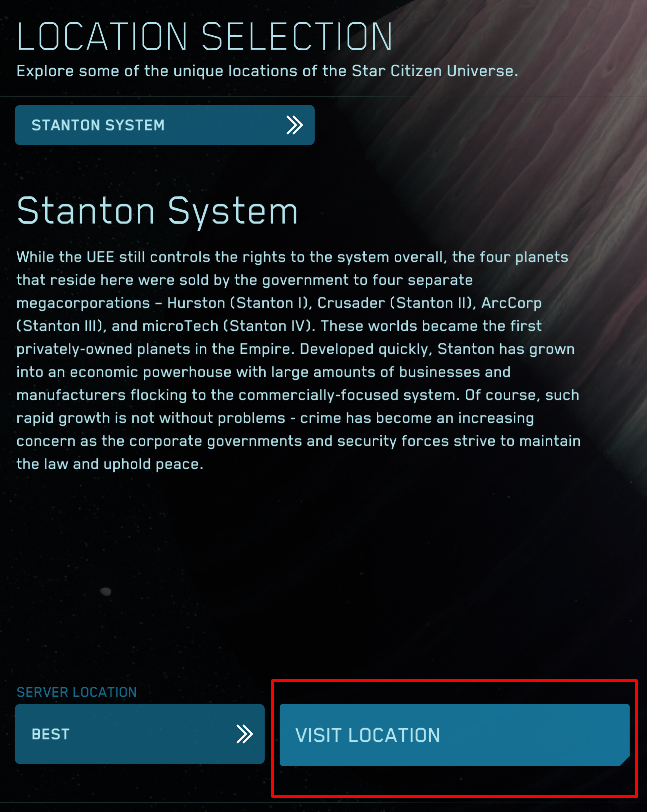 RSI Account is Missing a Game Package
In order to access Star Citizen and login to play in the Persistent Universe, your RSI Account must have a game package included among the pledges.
Most cases where the space port buttons have vanished are from players that have reclaimed (or "melted" as some call it) their game package for store credit and used the funds to replace it with a standalone ship. Should this be the case, players will need to either buy-back their game package or purchase a new one.
While we understand that having varied and exciting ships are part of the draw for many, unfortunately if none of the pledges on an account have a copy of Star Citizen among the contents, then they will be unable to login to the Universe to use them.
Multiple RSI Accounts
Related to the above issue where an account is missing a game package, some players may have created multiple RSI accounts and have logged into one that does not have their pledges on it. In this case, double check that the correct login credentials were used.

If you continue to have trouble locating the account with your game package due to forgetting the email that was used or have lost access to the email account itself, then you will need to submit a ticket for assistance with updating the email address.
Since the purpose of this is to locate your game package, including the Order ID# from your pledge will be extremely helpful in locating your wayward account.