Which countries can receive Star Citizen Merchandise?
The following countries are currently supported by our merchandise fulfillment services:
| | | | | |
| --- | --- | --- | --- | --- |
| Australia | Austria | Belgium | Bulgaria | Canada |
| Croatia | Republic of Cyprus | Czech Republic | Denmark | Estonia |
| Finland | France | Germany | Greece | Hungary |
| Ireland | Israel | Italy | Japan | Korea |
| Latvia | Lithuania | Luxembourg | Malta | Netherlands |
| New Zealand | Norway | Poland | Portugal | Romania |
| Slovakia | Slovenia | Spain | Sweden | Switzerland |
| United Kingdom | United States | | | |
Players that attempt to place an order with a shipping address located in a country that does not appear in the above list will receive an error if the pledge contains physical merchandise items.

Should this list change in the future, we will update this page accordingly.
Can I ship to an alternate location?
Yes, you will need to enter the address in your saved address book.  During checkout enter your billing information in the appropriate section and enter the address you would like to have the item shipped to in the shipping section.
Keep in mind that we will only be able to ship physical merchandise to destinations within the countries in the list above.
Are merchandise orders available for use with Store Credit?
No. Store credit cannot be used to pay for physical merchandise items.
Can I purchase more than one item at a time?
No, due to certain limitations with the manufacturer we are unable to combine shipments at this time.
What is the processing time before my order ships?
Orders will be processed by the manufacturer as soon as possible once the items are in stock, which is generally within a few business days.  This will also be the case for pledges that contain both digital and physical items.
If you are placing a pre-order for a physical item an estimate of when the item will be available and shipped will be present on the store order.
Should an order for an in-stock item be placed and no tracking number is received within two weeks, please contact RSI Support for assistance.
How do I cancel or change an order?
An order can only be cancelled or altered if it has not yet been shipped from the manufacturer. If you see the current status as "Shipping" or "Shipped", it is unable to be altered. All requests to alter the address or any other details on physical merchandise will require a request to the support team before it has been updated to Shipping/Shipped status.
How is tax calculated?
Tax will be applied depending on the country associated with your billing address.  Some countries will levee import taxes and duties on top of the tax already paid.  We are not responsible for additional fees incurred.  However,  if there is a circumstance where you incurred a tax obligation twice please submit a support ticket for assistance.
I received an 'out of stock for your selected shipping address' error. What does this mean?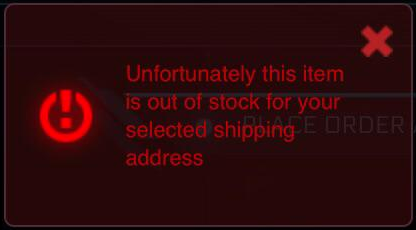 If you receive the error noted above when attempting to place a physical merchandise order, this means that our closest distribution center that services your location is out of stock of that particular item. If the item is a pre-order, then our allocated stock for that item has been depleted. You'll need to check back to try again later.
Why does my order show an error after payment was submitted?

 
In the event your order should have an error during processing the system will attempt to resubmit the payment and order information. However, should an error persist for more than 72 hours you should contact RSI Support for guidance.
What if I received an incorrect or damaged item?
Please submit a support ticket and provide as much information as possible along with photos.  This will help us make a determination of the appropriate action needed.
What if I have moved or the recipient has moved?
Contact your local post office to have your mail forwarded to your new address.  Once the items have left the manufacturer they will be delivered by your local postal service.  
My order qualified for a brochure. Will I receive a confirmation when this shipped?

 
No, brochures will be shipped via regular mail.  It will be announced via Spectrum of when mailing has begun.  No tracking information will be provided for brochures.
My pledge has an 'Original Collector's Box" item. When will these be shipped?
Most of these items will be processed for shipment once the game is complete.  More information will be provided at that time.  However, if anything changes you will be updated.