RSI aims to provide a unique selection of merchandise items inspired by the game. Many items will be a limited run, with a set quantity available for order, exceptionally popular merchandise may receive additional stock, but typically do not. Simply put, all merchandise items have a lifespan directly relating to their popularity - and once they are gone, they are gone. If you have any questions or concerns regarding your order or available merchandise please submit a support ticket for assistance.
Feel free to read through the information listed on this page at your leisure to understand the ins and outs of your physical merchandise order. Or if you are looking for answers to something specific, look through this list of links to jump directly to the relevant question and answer:
Which countries can receive Star Citizen Merchandise?
The following countries are currently supported by our merchandise fulfillment services:
| | | | | |
| --- | --- | --- | --- | --- |
| Australia | Austria | Belgium | Bulgaria | Canada |
| Croatia | Republic of Cyprus | Czech Republic | Denmark | Estonia |
| Finland | France | Germany | Greece | Hungary |
| Ireland | Israel | Italy | Japan | Korea |
| Latvia | Lithuania | Luxembourg | Malta | Netherlands |
| New Zealand | Norway | Poland | Portugal | Romania |
| Slovakia | Slovenia | Spain | Sweden | Switzerland |
| United Kingdom | United States | | | |
Players that attempt to place an order with a shipping address located in a country that does not appear in the above list will receive an error if the pledge contains physical merchandise items.

Should this list change in the future, we will update this page accordingly.
How are shipping fees calculated?
Merchandise items on the storefront will not be displayed with their shipping fees. Those are calculated based on your shipping address at checkout. You can order more than one merchandise item at a time but keep in mind that shipping costs are calculated by weight, so large orders are subject to higher shipping fees.
How is tax calculated?
Tax will be applied depending on the country associated with your shipping address.  Some countries will levee import taxes and duties on top of the tax already paid.  For more on this, please refer to our Terms of Service; Section VII: Merchandise
Can I ship to an alternate location?
Yes, you will need to enter the address in your saved address book.  During checkout enter your billing information in the appropriate section and enter the address you would like to have the item shipped to in the shipping section.
Keep in mind that we will only be able to ship physical merchandise to destinations within the countries in the list above.
Are merchandise orders available for use with Store Credit?
No. Store credit cannot be used to pay for physical merchandise items or shipping fees.
How do I choose the correct size?
Clothing, or other sized merchandise will have a measurement sheet available for reference. It is recommended that you take measurements from a similar garment that fits you comfortably and use those measurements to decide on what size merchandise you should order.
Can I purchase more than one item at a time?
Yes. Please keep in mind that shipping costs are calculated by weight, so large orders are subject to higher shipping fees.
What is the processing time before my order ships?
In stock items should begin shipping within 24 hours. Unless your order was placed on a holiday or weekend. It will ship on the next available business day.
Pre-order items will have an estimate of availability located on the store page.
This will also apply for pledges that contain both digital and physical items, or bundle packages.
Other stock availability messages you may see are:
Back-order – Though currently out of stock, production has not concluded, and new inventory is on the way.

Orders containing Back-order items will be fulfilled in stages as each item becomes available. If an order contains items that are currently in stock, it will ship what is available, and once the back ordered part of the order arrives it will be shipped as a separate order.
Out of stock – Current inventory is depleted, and no new orders are being accepted. If this item comes in multiple sizes, some more popular sizes may be depleted before others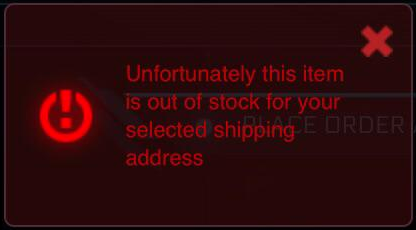 Discontinued – No longer displayed on the store, these items have been discontinued. You may see this item again someday, or another similar product introduced to take its place.
Where is my item shipping from?
Unless otherwise stated, all US orders are shipped from within the US, and all International orders are shipped from within the European Union.
Has my order shipped?
Once your order is shipped you will receive a confirmation email to the email address used during checkout. If you have not received an email, please check your spam folder and search for mail from the address: no-reply@robertsspaceindustries.com
To prevent this issue from recurring, you can find instructions on how to whitelist this email address here: Updating Your RSI Account Email Address
How do I cancel or change an order?
RSI Support can only make changes to orders that are still "Pending". Due to the speed at which orders are processed, you will not be able to amend or cancel your order once it has been placed and the status is updated to "Submitted".
For citizens of the EU please refer to the Terms of Service for more information: Terms of Service; Section VII: Merchandise
How do I change my shipping address?
Due to the speed at which some orders are processed, RSI Support will be unable to amend orders after the status is updated to "Shipping". If your order has been shipped and you need to amend the delivery address, you should be able to do so through the delivery company with the link provided in your tracking email, if no link is provided, contact RSI Support and we will see what can be done.
Why does my order show an error after payment was submitted?

 
In the event your order should have an error during processing the system will attempt to resubmit the payment and order information. However, should an error persist for more than 72 hours you should contact RSI Support for guidance.
What is the Status of My Order?
For most orders, once it has shipped, you will receive any additional information available in your confirmation email. For US orders over 1 lb, you will receive a UPS tracking number. For International orders, you may or may not receive a tracking number from your local postal service.
How long does a shipment usually take to arrive?
Delivery time from when you receive your shipping confirmation email is typically 4-14 business days but may take longer depending on current shipping conditions. We ask that you allow for 3 weeks of shipping time before contacting support. Remote locations may be subject to longer shipping times. If you have received a tracking code for your package, you should contact the courier that provided the code for assistance. Back-order items will ship as soon as possible, look for an estimated shipping delay note on the item description in the Pledge Store.
What if my item does not arrive?
Please contact RSI Support with the order ID and tracking number, if you have it. We will investigate the order, check its location and status, and verify the shipping information with you. If it is determined that the order has been lost in transit a replacement or refund will be provided.
What if I received an incorrect or damaged item?
Please submit a support ticket and provide as much information as possible along with photos.  This will help us make a determination of the appropriate action needed.
What if I have moved or the recipient has moved?
Contact your local post office to have your mail forwarded to your new address.  Once the items have left the manufacturer they will be delivered by your local postal service.  You may also be able to change the address from the shipping page included with your confirmation email.
What if my item is "Returned to Sender"?
In the event your package has not been received it will be returned to sender. Submit a support ticket with RSI Player Relations for assistance along with your notice that your order has been returned. A replacement will be arranged, or a refund provided.
My order qualified for a brochure. Will I receive a confirmation when this shipped?

 
No, brochures will be shipped via regular mail.  It will be announced via Spectrum of when mailing has begun.  No tracking information will be provided for brochures, or other merchandise under 2 kg.
My pledge has an 'Original Collector's Box" item. When will these be shipped?
Most of these items will be processed for shipment once the game is complete.  More information will be provided at that time.  However, if anything changes you will be updated.
Can I return an item for a refund?
Please Contact RSI Support with any questions regarding your order or potential refund. Further detailed information may be found within the Terms of Service. Note that any merchandise sent back via return post will not be received.