Within the 'verse, and out of it, there are multiple currency types at work that make the economy of Star Citizen function.  Each one serves a very specific purpose to allow players to gain access to different things.  Below is a more in-depth look at the currencies that our players will encounter during their travels. 
You can see your account currency amounts quickly by clicking on the Account tab on https://robertsspaceindustries.com/ where this will pop up.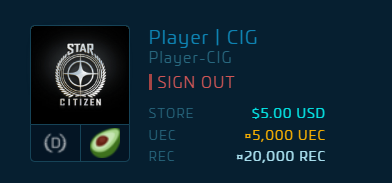 aUEC - ALPHA UNITED EARTH CREDITS 
During the Alpha phase of the game, we will be using a currency called aUEC (Alpha United Earth Credits). This is a temporary currency specifically designed for Alpha testing the in-game economy and balance.  For any given patch, if you have no current aUEC total to carry over, your starting aUEC will contain a base starting amount determined by testing needs, plus all UEC on your account that is not bundled with a game package.  The patch notes for any content or hotfix patch will indicate whether previous aUEC values will carry over (Long Term Persistence enabled means aUEC should not be wiped) and how much the base aUEC will be.
This means the amount listed under UEC as in the picture above.  For example, the Avenger Stalker game package includes 2000 UEC, which will not be added to your starting aUEC total during testing.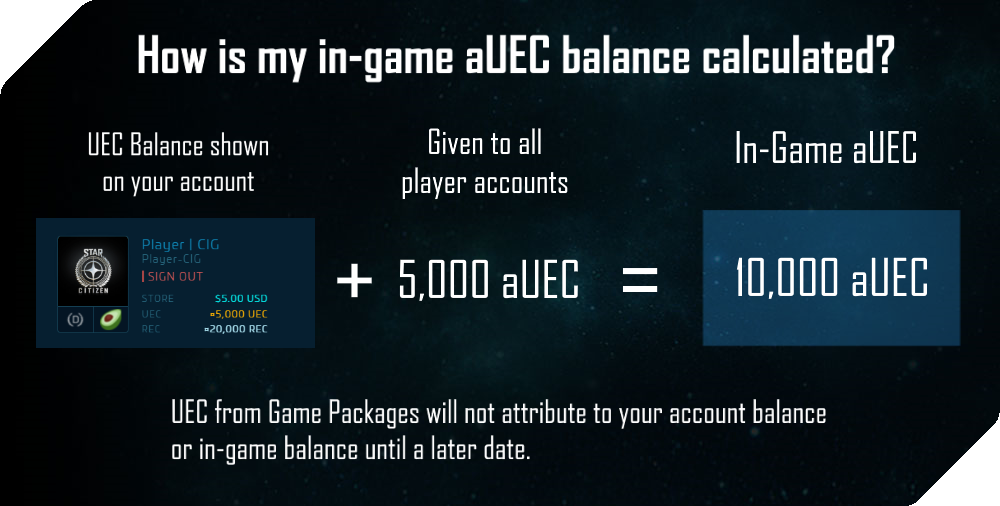 To earn aUEC to spend in our alpha builds, simply check your mobiGlas for missions, and you will soon find performing them will earn you a healthy balance of credits.  Once a player has logged in to the 'Verse and started earning more aUEC (or losing it in some cases), a player's current aUEC total will not be reflected on the website and must be viewed in-game.

As a reminder, this currency is temporary and designed specifically for testing purposes. There is every chance your balance will change or reset as development continues.  Loss or gains of aUEC will not affect your UEC total when the game moves out of testing into Live release. 
Recent changes to the game and how various things will persist within it between play sessions and patches means that in general, we will try to avoid wiping out player in-game wallets with new patch releases where possible.  This means that a player that has been active in game before a patch release should expect their aUEC total to remain as it were unless otherwise noted in the patch notes.  As will all things during an alpha test, everything is subject to change.
RSI support staff cannot assist with recovering lost aUEC for any reason.
UEC - UNITED EARTH CREDITS 
UEC will be the in-game currency used to buy weapons, shields, and decoration items. When the final game goes live, this will be the currency used to purchase everything in the games virtual economy.  
UEC chits that provide a standalone increase to your UEC balance can also be purchased on the RSI pledge store. There is a daily limit on the total UEC that can be purchased in this way. If you receive an error about reaching a limit, you will need to come back another day to resume your purchasing.
These credits will help you take your first steps on your journey into the Star Citizen universe once the game is released.
UEC that is part of pledge packages is not attributed to the website UEC Balance until the game has gone live.  You can find the number of starting credits you will receive when the game goes live by navigating to My Hangar, then selecting the expand arrow on your pledge. This will reveal an Also Contains section listing what is within your pledge: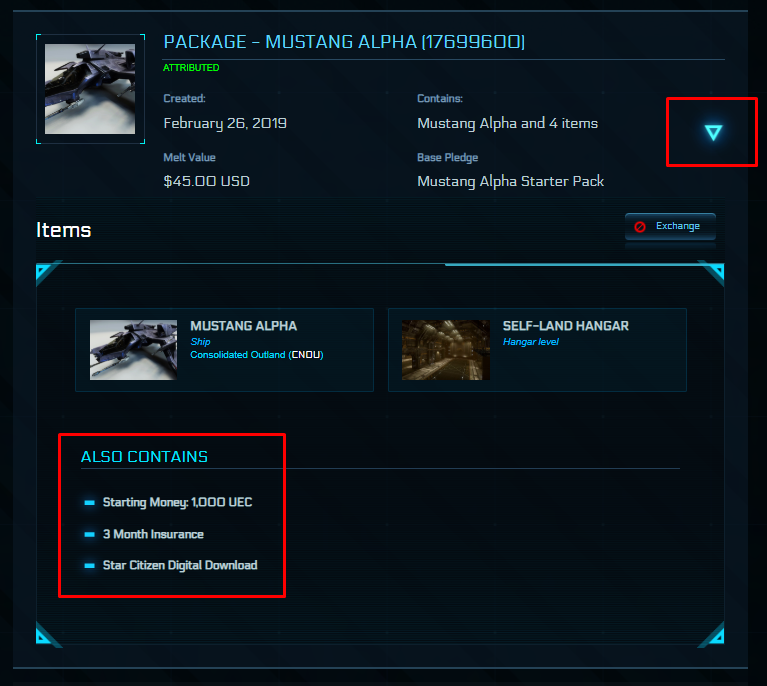 REC - RENTAL EQUIPMENT CREDITS 
REC is earned in Star Citizen's Arena Commander game modes, and these credits allow you to rent equipment, ranging from weapons and components to full ships.  Rental credits are a great way to test out load-outs and ships that you wish to pilot in the Verse.  For more detailed information about rented equipment, check out our Renting Equipment article.
STORE CREDIT
Store Credit is currency that can be used toward pledges, ship upgrades, and UEC chits on the official RSI website. You get this currency through Reclaiming Pledges under the My Hangar section of your Account on the RSI website, or by redeeming Gift Cards on your account. You can use Store Credit in the online store to purchase ships, game packages, and more. If you have insufficient Store Credit for a desired purchase, you can apply the store credit you have toward the order and pay the remaining balance via another payment method.
Pledges made with any amount of store credit cannot be gifted and credit cannot be transferred between accounts.