The Community
Our amazing supporters, fans, and backers also put out a great deal of content, which we feature under the Citizen Spotlight. This features fan works such as art and stories, but also streams and videos; many of which are geared towards helping players get into the game. This section can be sorted by categories to find the content you want to see and is updated frequently.
We hold official events throughout the year, including our largest, CitizenCon, along with popular community-ran events such as the Bar Citizen fan-meetup format.
Follow Development
Social Media
We have a thriving community through Spectrum, our chat and forums site. You can post questions and feedback, engage in discussions, and find other players. RSI and the Community team stream to Twitch and the official Youtube channel features several development-related series and special announcement videos.
RSI Website Apps
You can check out the Public Roadmap for the latest details on our planned release schedule for both Star Citizen and Squadron 42. The Dev Tracker shows the Spectrum interactions of our developers, and our Public Telemetry shows near-live performance stats across a large range of system configurations.
Testing Star Citizen
If you find a bug or issue in-game, visit the Issue Council to report it and help our developers to resolve it more quickly For more information, visit our Issue Council FAQs.
Avid testers are added to the Public Test Universe. We also have a Known Issues section for some of the most severe issues our players are encountering, with workarounds and advice.
Ship FAQs
Every ship has a unique use, design, and features. Whether you are exploring the corners of the 'Verse, mining asteroids, salvaging wrecks, battling the unknown, you can select from a wide range of ships and vehicles.
To learn more about each ship, where it began, and the vision for it, see our Concept Ship FAQs.
SHIP DEVELOPMENT PIPELINE
Whilst many ships are already flyable, some have yet to be fully realized in-game. You can track ships from their design to completion on the Public Roadmap. The Roadmap is populated directly from internal schedules, and so is subject to change throughout the development process.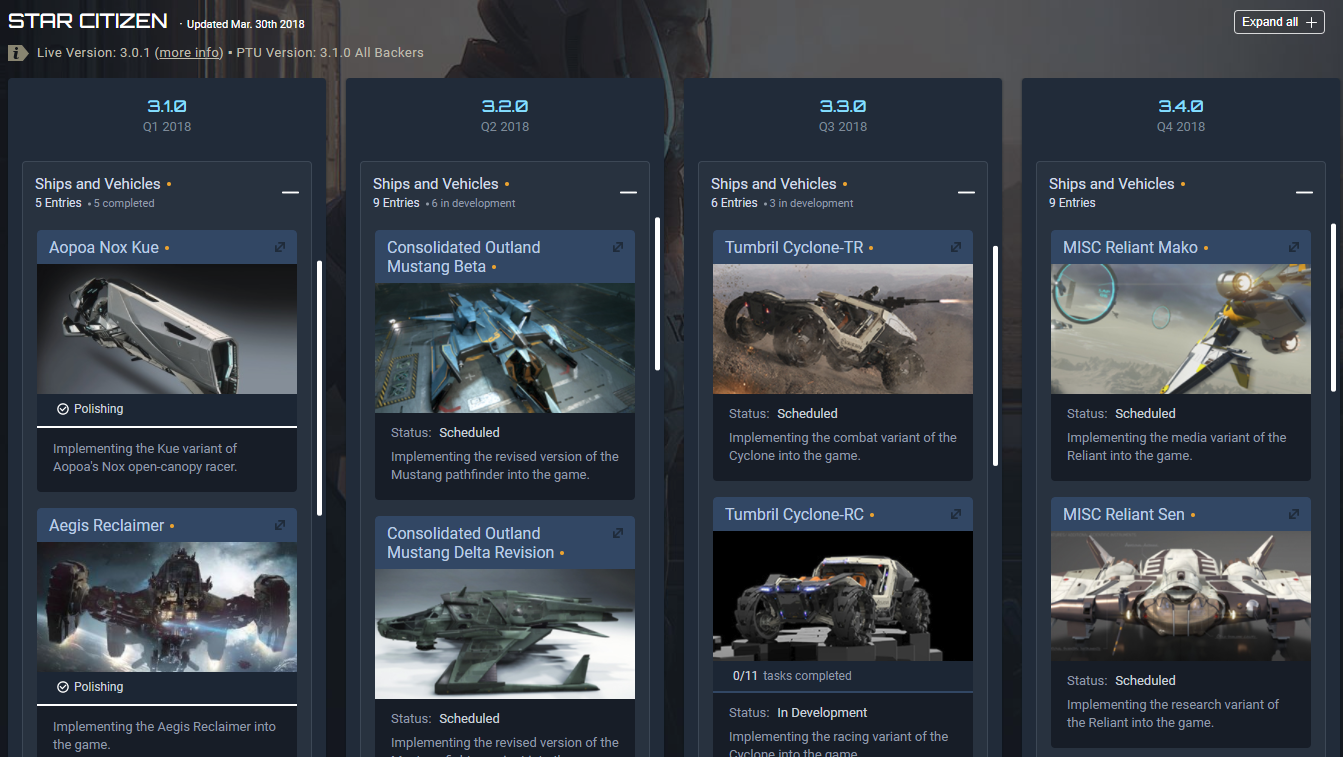 Ships work through the ship pipeline process from concept to flight ready:
In Concept - Artists and designers determine the concept look, 3D renders, and functional design for a ship.
Long Term Production - Development work is planned and added to the Roadmap.
Active Production - Development, designers, and QA work from start to finish on the ship.
Hangar Ready - The ship loads for display and interactions.
Flight Ready - The ship can fly with full operations including physics, interactions, systems, fuel, cargo, and more. These ships are ready in game for you!
Note: Some role-specific functionality may depend on future technology and features, which can also be tracked on the Public Roadmap.