How to cancel an order
Use the following steps to cancel a pending order:
Visit our site and log in to your account
Click on Account > Settings, then the Billing & Subscription
Click on the arrow next to the pending order to toggle more options
Click Cancel
After this has been canceled, you will see the order updated on your screen. You will also receive a courtesy email notifying you of the change.
Why is my order failing?
When an order fails, the reason will often be displayed against the failed order. There are many reasons why an order may fail, but common reasons include insufficient funds, trying to use an expired card or the ZIP / Postal code not matching what the bank has on file.
The billing information must match what is on file with your bank.  You can find this information on your statement within your payment account.
If you are unsure why your order is failing, please submit a support ticket and we can investigate this for you.
Why is my order showing as "abandoned"?
When you place an order via our store, you have 48 hours to complete payment. If you start your order but do not finish payment, the order status is automatically changed to "Cancelled" or "Abandoned".
You will receive a courtesy email update for any cancelled orders.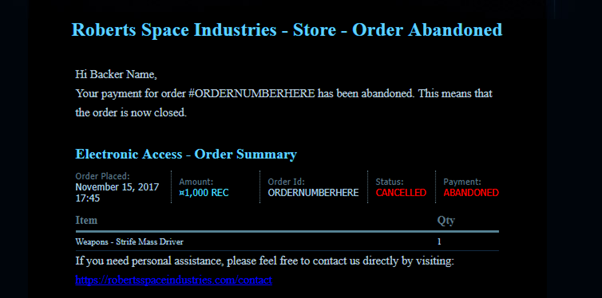 Charged for an order, but payment showing as "pending"
If you paid for your order via a PayPal eCheck, the payment will be "pending" until settlement. eChecks generally happen when there aren't enough funds in the account at the time of purchase. You can read more about eChecks on PayPal's website.
eChecks usually take about one working week to process, although they can sometimes take a little longer.
Once the payment is completed your pledge will be attributed to your account. 
Charged for an order, but have not received pledge
There can be a few reasons for this; one is that as an error may have occurred during the payment process. If this is the case, your order status will likely be set to "Abandoned". We recommend submitting a support ticket for assistance. The payment will be reversed, and you can then attempt placing the order again.
Another reason is that the charge is pending authorization. When an attempted order is unsuccessful, you may see a pending authorization on your bank statement. These mostly occur when the ZIP / Postal code not does not match.
This is not an actual charge, and will fall off your statement anywhere between a few hours to a few days (the time this takes varies between banks).
Item in shopping cart has disappeared
Adding an item to your shopping cart does not guarantee you that will receive the item; you will need to fully complete the checkout process. Please keep this in mind for stock limited items.
Forgot to add Squadron 42 to game package
During checkout you may be prompted to add a discounted Squadron 42 add-on to your game package before completing your order.
This must be added to your order before completing the checkout process. This option will not be displayed for standalone ship pledges, or if you have already purchased Squadron 42 it in the past.
This cannot be added retroactively as they are only offered during the checkout process, and must be added to the qualifying order at that time of purchase.
Retroactively apply coupon code
You will need to submit a support ticket for assistance here. The order will first need to be refunded, and you can then place the order again using your discount coupon.  Keep in mind our refund policies as they will still apply.
Invoice going to wrong email address
During the checkout stage, be sure to input the email address you wish the invoice to go to. Otherwise, it will be sent to the email you last used on the checkout stage.  The email address used for an order cannot be updated by CIG staff once it has been processed.
$1.00 charge on my statement
That $1.00 charge is what is called an authorization charge from Stripe (our card payment processor). A small $1.00 request is sent to verify that the card is valid and that the bank will allow it to be authorized.
These can show up when there have been several attempted orders which have failed. These charges are always returned shortly afterwards however, so please rest assured.
You can read more about this on Stripe's website.
Unable to use PayPal for a recurring subscription
Unfortunately players from China will not be able to set up a monthly subscription via PayPal, as PayPal does not support recurring payments from this country.
Instead you can buy a subscription pass, or purchase a recurring subscription via Stripe with your bank card.
Order failed & store credit vanished
Any store credit applied to a failed order will end up back in your store Credit Log shortly afterwards (this can take anywhere from a few minutes to a few hours).
Remove saved card details from stripe
The card "Remember Me" feature is controlled by Stripe, so if you would like us to remove your saved card details, we will have to contact Stripe on your behalf
Submit a ticket to our team, and please let us know the email or phone number associated with your Stripe "Remember me" profile.