As you play the Star Citizen Alpha, you are likely to encounter issues from time to time. For instance, the game might crash when you click "Exit to Menu", or the box you need to deliver for a mission might disappear.
You are able to help get these issues fixed by visiting the Issue Council! The tool allows you and the community to help our developers identify, investigate and prioritize issues.
Tip: The Issue Council is for reporting bugs. Reports not detailing a bug will be Archived.
Visit Spectrum to provide feedback on design/balance, or make suggestions for features/content.
Quick Jump Links:
How do I use the Issue Council?
Sign in

Sign in by clicking the button in the top right, which will redirect you to the main RSI Website. Enter the login credentials of the RSI Account if you are not already logged in to RSI, and you will be redirected back to the Issue Council once sign-in has completed.
Tip: The Issue Council requires a properly synced system clock to sign in and create or add to reports for proper data tracking. If your computer's clock is not properly synced, you will encounter this error message:

If you encounter this, please Check your system clock.
Select a project

Once signed in, it is time to select a project. The Star Citizen project is used to report any issues found with either the Live or Public Test Universe version of the game.
Any issues you might encounter when using the Issue Council itself should be reported to Fix.PleaseFix, which can be accessed at the bottom of every Issue Council page: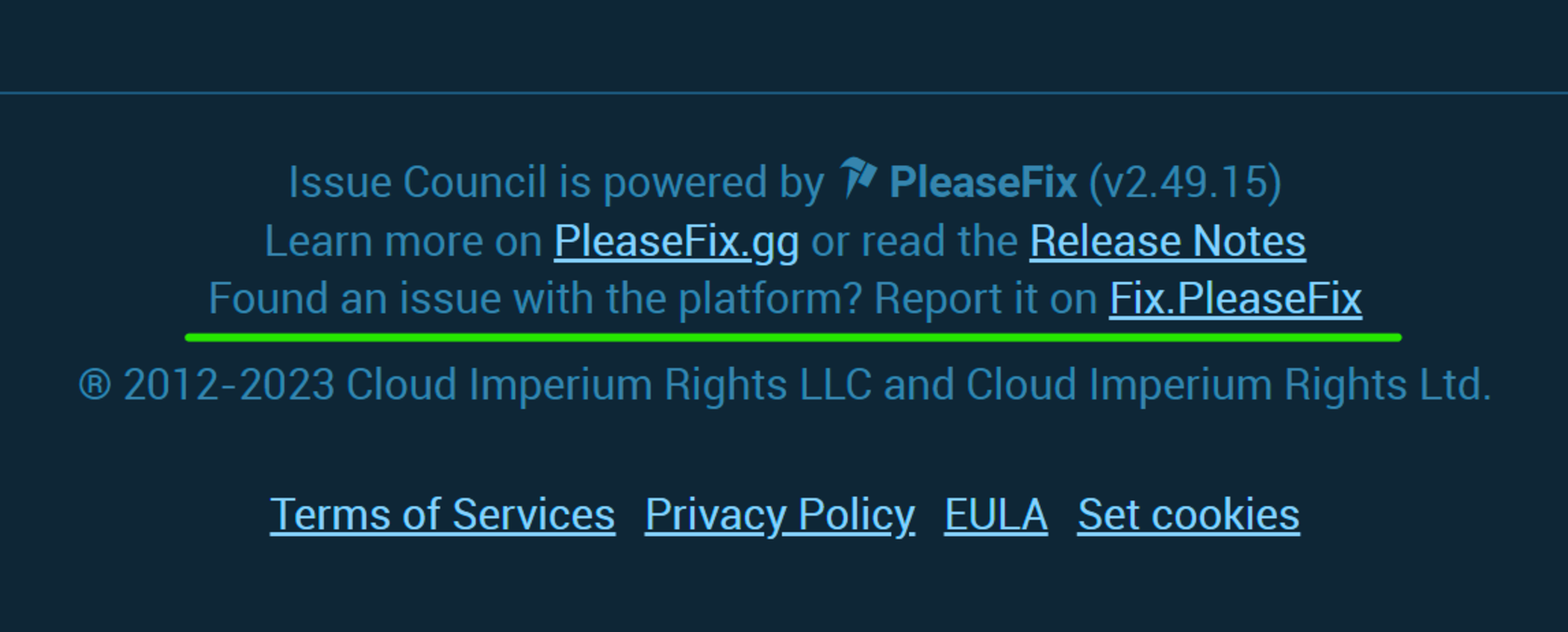 Search for your issue

Always search for an existing report before creating your own. Duplicate reports about the same issue should be avoided so that all of the available information is in one place to assist our developers' investigations.
If you find an existing report you can Contribute to it, or if not you can Report a new issue.
Tip: If a report lists a previous version, select the current version in your contribution.
Developers can see all versions the report has been reproduced on. No need to create a new report!
Contribute to a report

If a report you find is Open, Confirmed or Under Investigation, you can contribute!
Tip: If the report is marked as Archived or Fixed, but the issue is still occurring on a version higher than the Fix version, Create a new report, so that the internal investigation can be re-opened.
Step 1 - Is this a valid Issue?
Yes
"Yes" should only be selected if you encountered the issue yourself on the version the report lists (or later). If you have not encountered the issue yourself, but you would like to help prioritize it for a fix, you can instead click Please Fix directly under the Contributions panel:

No
A report of an issue that you have not yet encountered during natural game-play is not automatically invalid. You will need to specify why the report is invalid in Step 2 (No).
Tip: You can add a comment without having to specify whether the report is valid via the Activity section at the bottom of the report.
Step 2 (Yes) - Add details
Add Evidence when possible (you can add screenshots or videos). This often adds context that cannot be easily described in text.
Make sure your Setup matches the one you were using at the time.
Add a comment in the More info section if:

Your Reproduction Steps differ to the ones in the original report.
You want to mention the frequency at which the issue occurs.
You have found a workaround.
Step 3 (Yes) - Severity
Check out our Severity Guide to choose the best-fitting severity.
Step 2 (No) - Provide a reason
"No" should only be selected if one of the following applies:
I can't reproduce - You attempted the reproduction steps and did not encounter the issue. We recommend trying a few times before selecting this option, and mentioning the chance of it occurring if you go on to reproduce the issue.
It's not a bug - You believe this to be part of the intended design and so the issue should instead be reported on Spectrum as feedback.
The report is incomplete - It is not possible to understand what the issue is or how to attempt to reproduce it from the information provided.
It's a duplicate - You can link the report to one that already exists. If one of the two reports is "Under Investigation", we recommend marking the other report as a duplicate of that.
(Duplicate marking should not be seen as criticism. Additional reports can add valuable information. It is merely a way to keep the Issue Council organized!)
Step 3 (No) - Add details
Add Evidence when possible (screenshots or videos). This can add context that cannot be easily described in text.
We highly recommend that you add a comment in the More info section, to provide a more complete picture of the player-base's differing experiences.
Report a New Issue

If you were unable to find an existing report for your issue, you can Report a New Issue from above the search on the Dashboard, or via the button on the sidebar at any time.
Issue Title
Pay careful attention to the Issue Title you choose. Other players will rely on this when searching to see if their issue has already been reported!
Possible Duplicates
Whilst three possible duplicates will be listed based on the title you enter, you can click View All Duplicates to more thoroughly check.
What's your game version?
Issue category
When selecting a Category, pick the one that seems the most closely related to the issue you are encountering.
How bad is it?
Check out our Severity Guide to choose the best-fitting severity.
How did you get there?
If you find 10 steps is not enough, try reproducing the issue again to see if any steps can be skipped, or if the report covers more than one issue, create separate ones.
Evidence
Videos and images can be added directly to each Reproduction Step, as well as the What Happened?, What should have happened? and Did you find a workaround? sections. Evidence can also be added at the end of the report creation process.
Evidence can be incredibly helpful for our developers and might make the difference when trying to reproduce the issue internally.
---
Frequently Asked Questions
Who can contribute to the Issue Council?
Currently, only backers (accounts that have helped fund the development of the game via an order on the RSI Pledge Store) are able to access and contribute to projects on the Issue Council. We may consider opening access to all accounts that have access to the game (including non-backers) in the future.
How do I check the version I encountered an issue on?
When entering a report or reproduction, ensure the correct Game version is selected ("Game version" is currently displayed even for non-game projects), so that our developers know which version to try to internally reproduce the issue on.
Star Citizen - Check the version currently installed in the RSI Launcher, under the Launch Game button. Please ensure you select the correct channel (Live/PTU, etc), first! E.g. 3.13.0-PTU.7307361.
Issue Council - Check the footer at the bottom of the website. E.g. v.2.12.29.
What severity rating should I choose?
Cosmetic - Does not impact use/game-play outside of being unpleasant. E.g. "Stretched texture on an advertisement".
Playable - Affects game-play or a particular activity, but can be worked around or avoided in-game. E.g. "Quantum Travel marker sometimes missing".
Hardly Playable - Widely affects game-play, loss of progress made in the session, difficult to avoid or work around in-game. E.g. "Ship explodes when repairing".
Critical - Prevents use/game-play, loss of all / long-term progress or requires leaving the game/website to resolve. E.g. "Spawn hab door will not open".
What happens to my report?
We strive to ensure that all reports complete the Issue Council process. You will be notified on the Issue Council (depending on your notification preferences) when another player contributes to your report, or your report / reports you are watching transition to each of the following statuses:
Open
Newly created Issue Council reports are Open, and must receive sufficient reproductions within the expiration period to avoid becoming Archived. This community verification step is essential to avoid abuse and noise from invalid issues or duplicates, which would impact our ability to track valid issues.
Reports that meet the reproduction threshold will become Confirmed.
Confirmed
Confirmed reports are directly linked to our internal issue tracking system. RSI Player Relations also review reports and information entered to report back to QA and development, to update troubleshooting information, and write Knowledge Base articles.
Under Investigation
A report will only be set to Under Investigation when the issue is actively being worked on by a developer, according to our internal issue tracking software. In reality, many more Confirmed issues are being tracked internally at any one time than this status may indicate.
For example, our developers may require more information from players which will set the report back to Confirmed. We will often add a staff comment to the Contributions section to communicate this.
Fixed
If a fix for the issue has been added, the issue will show as Fixed with a fix version number for players to check. It's important to note that the fix version may not have been released to players for testing yet.
You will no longer be able to contribute to the report, but if the issue is still present in a version equal to or higher than the fix version, feel free to create a new report.
Archived
As mentioned, Open reports that expire without enough reproductions are automatically Archived.
We will strive to communicate why a Confirmed report was set to Archived in due course. This can take time as the priority is to fix the remaining issues! A common reason for a report to be Archived by staff is that it is a duplicate. The report it duplicates will be linked in the Contributions panel.
Do I get rewarded for my reports and contributions?
The Issue Council is another way that players can get closer to the open development process. While having a issue-free game is a pretty great reward, we understand that receiving gifts for reported valid issues would be fun too. Our priority is to make sure that this system works effectively and that players cannot use it to gain an unfair advantage. However, we may choose to implement a reward system in the future.
We track all of your contributions and reports. We have a select group of testers and players collectively known as the Evocati Test Flight. When we add to the Evocati, we do so by reviewing and tracking all of your contributions through Issue Council.
I created a valid report but no-one has replicated it. This issue significantly hinders my game-play experience. What can I do to boost awareness?
The Issue Council was designed to collect, filter and consolidate valid player bug reports to make it feasible to add them to our internal issue tracking system for direct review by our developers. We understand some severe issues are inconsistent or rare, and are investigating ways to account for these.
In the meantime, you can always ask your friends and Organization members to pitch in! You can also search Spectrum for posts and questions other players have posted on. You can post a link to your Issue Council entry to get that player, and others, to post their contributions on your report! This is a great way to get awareness to your issue and gather contributions.