Welcome to the wonderful world of being a Star Citizen guide!
Guides are Star Citizen's teaching ambassadors, and for a lot of players, the first friendly face they'll see in the 'verse. Star Citizen is a deeply immersive world, but it can also be an incredibly complex endeavor for new players to venture. As a guide, you have the opportunity to hold the torch and be the guiding light for first timers navigating the ins and outs of the 'verse.
The sheer number of stories we've seen grace Spectrum about how a new player made life-lasting memories after stumbling upon a veteran player who led the way has truly inspired us. We regularly see you veterans out there taking matters into your own hands, acting as informal guides for the ever-growing number of new players, so we decided to develop this program to make an easier and more rewarding process for all of you who take the time to help. Let's get started!
Guide Hub
The Guide Hub is your home for all things Guide System. Your personal Guide profile lives here, as well as all incoming requests from potential new pilots.
Below that, you'll see your short Guide Bio which you can fill out to give prospective new pilots a quick overview of yourself.


Languages
You can update your preferred languages by visiting your account settings. There you will find you can add up to three languages.

Categories
Categories on the Guides Page are used to specify what you feel comfortable teaching. Here's a quick breakdown of each:
Basics

: Master the basics of traversal, on foot or in a vehicle.

Vehi

cl

e Combat

: Hone your abilities in vehicular mayhem, on the ground or in the air.

FPS Combat

: Gear up and sharpen your skills in on-foot combat.

Mining

: Learn the intricacies of mineral excavation for fun and profit, on foot or in a ship.

Missions

: Find out how to locate the most lucrative contracts and business opportunities in the 'verse.

Trading

: Become a deft interstellar merchant and reap the rewards.

Touring

: Discover the finer points of touring the galaxy, from exploring popular locales to uncovering mysterious secrets.

Miscellaneous

: Want to learn something not covered in the previous proficiencies? You've come to the right place.
If you're an ace pilot with seasoned experience in mission gameplay, but haven't harvested a single gem, don't feel pressured to put down Mining. Stick to what you're experienced in for best results.

Availability
Just beneath the categories you'll find the Availability Switch. You can flip this on when you're at your PC and available to aid new pilots.


Requests
Lastly, at the bottom of the Guides Hub, you'll see all the incoming requests new players send you.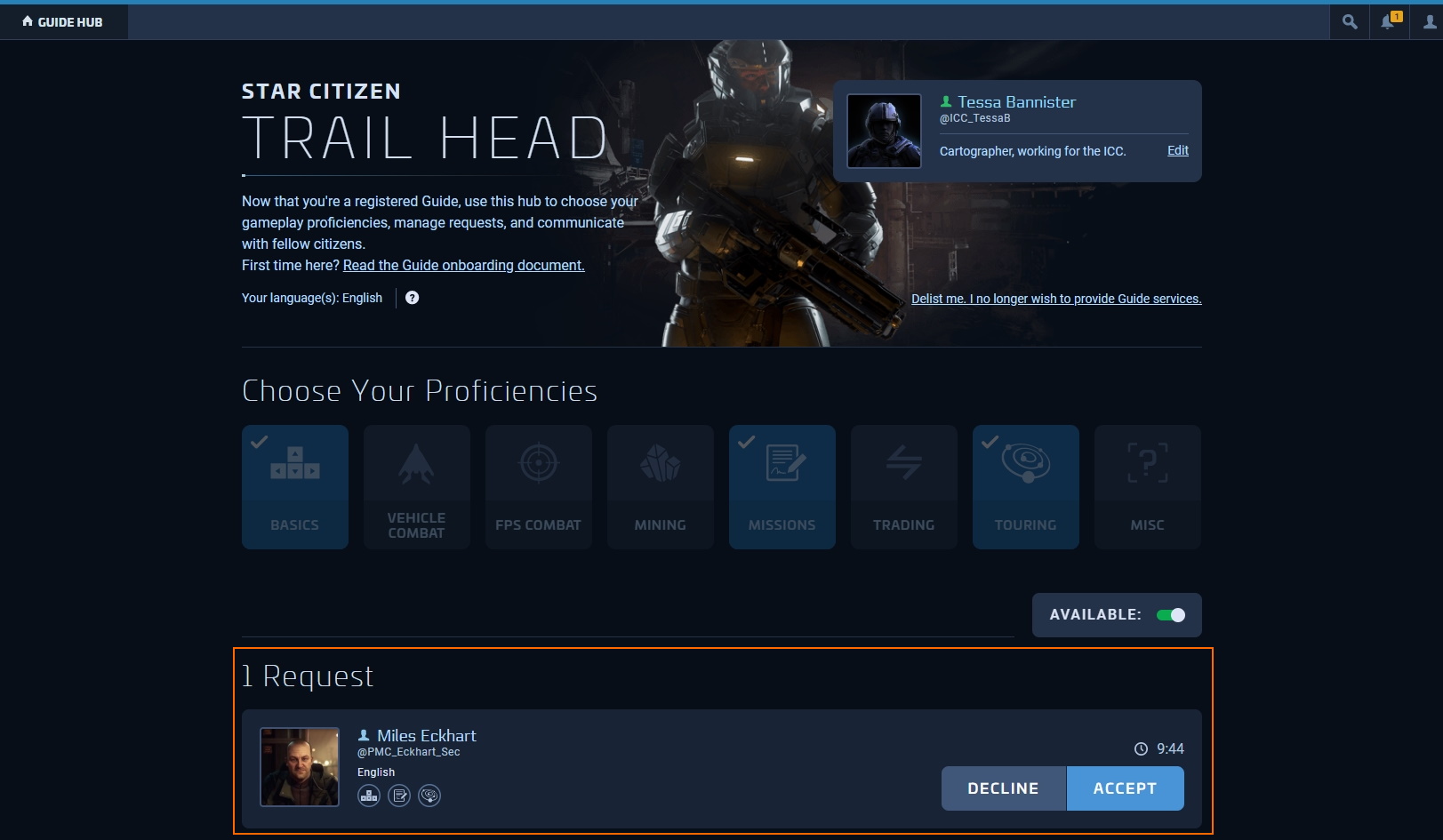 We've all been beginners at some point, so make sure you're as patient as you would have liked others to be when you were first learning the ropes. The first step towards being good at something is being bad at something, we've all been there.
Thank you for holding the torch and being a guiding light for the next wave of space travelers! We hope you have a great time, and we'll see you in the 'verse.