Pro-tip: To get the most out of your weapons, armor, and other equipment, you must equip them first.
Your Personal Inventory
After a shopping trip, or perhaps a raiding party to acquire new stuff, to put it to use a player will need to equip the items in order for any of it to be of any benefit. This can be done via the Personal Inventory management screen. If you are in a major city that also allows for Local inventory storage, it will look something like this once opened: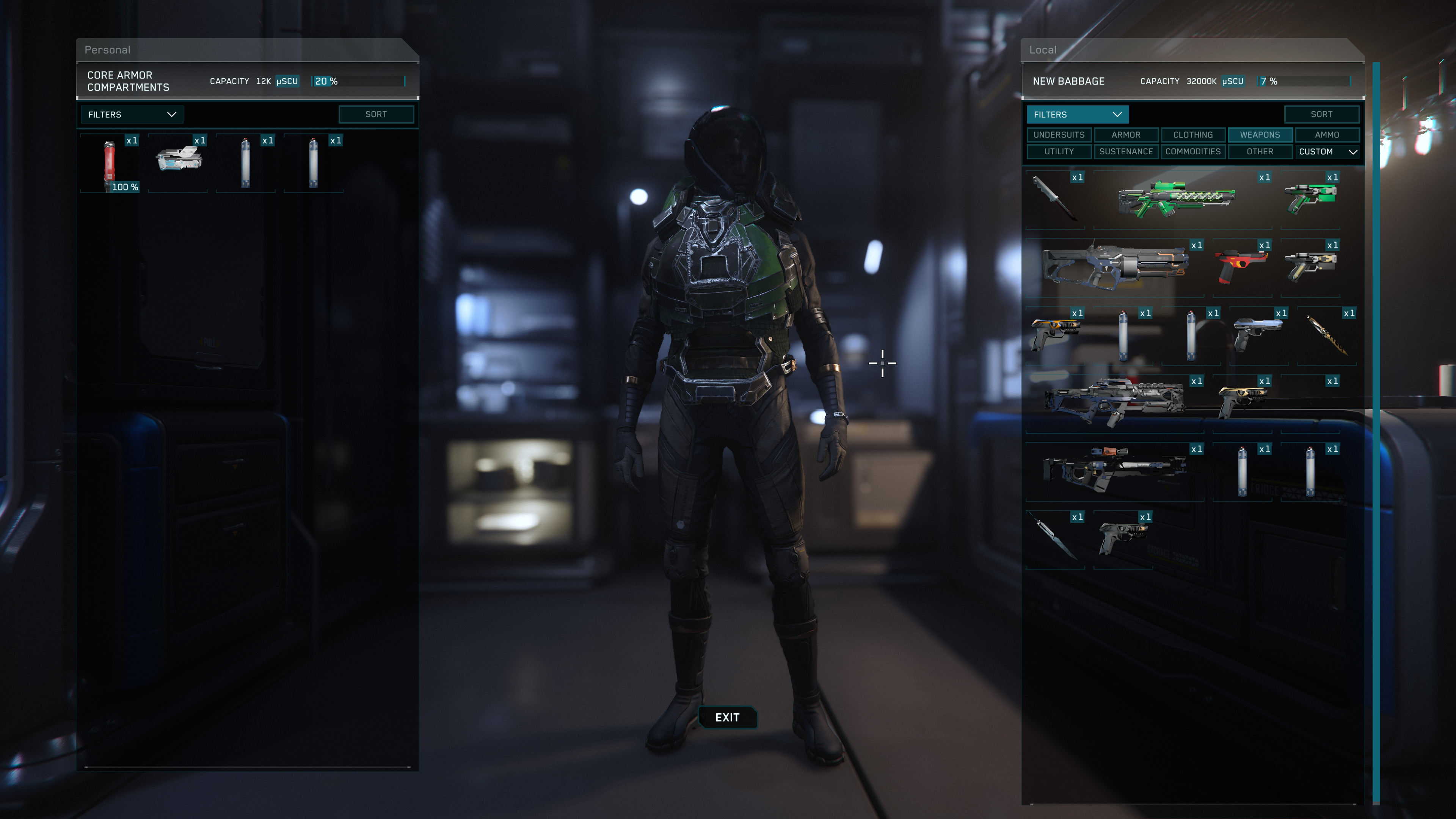 For a more in depth look at the Personal Inventory system, check out our guide on it by clicking here.
To get your gear set up:
Press I (the default keybinding) to open your Personal Inventory management screen.
Navigate through your available equipment to locate the item you wish to equip.
Click and drag the item onto your character or into the appropriate personal inventory location, or right click and select EQUIP.
...and that's it!
If you have a great deal of items, equipment, and flair, you may also find it helpful to use the filter options to narrow down the list. This will make it much easier to locate what you need and prepare for your day in the 'verse easier.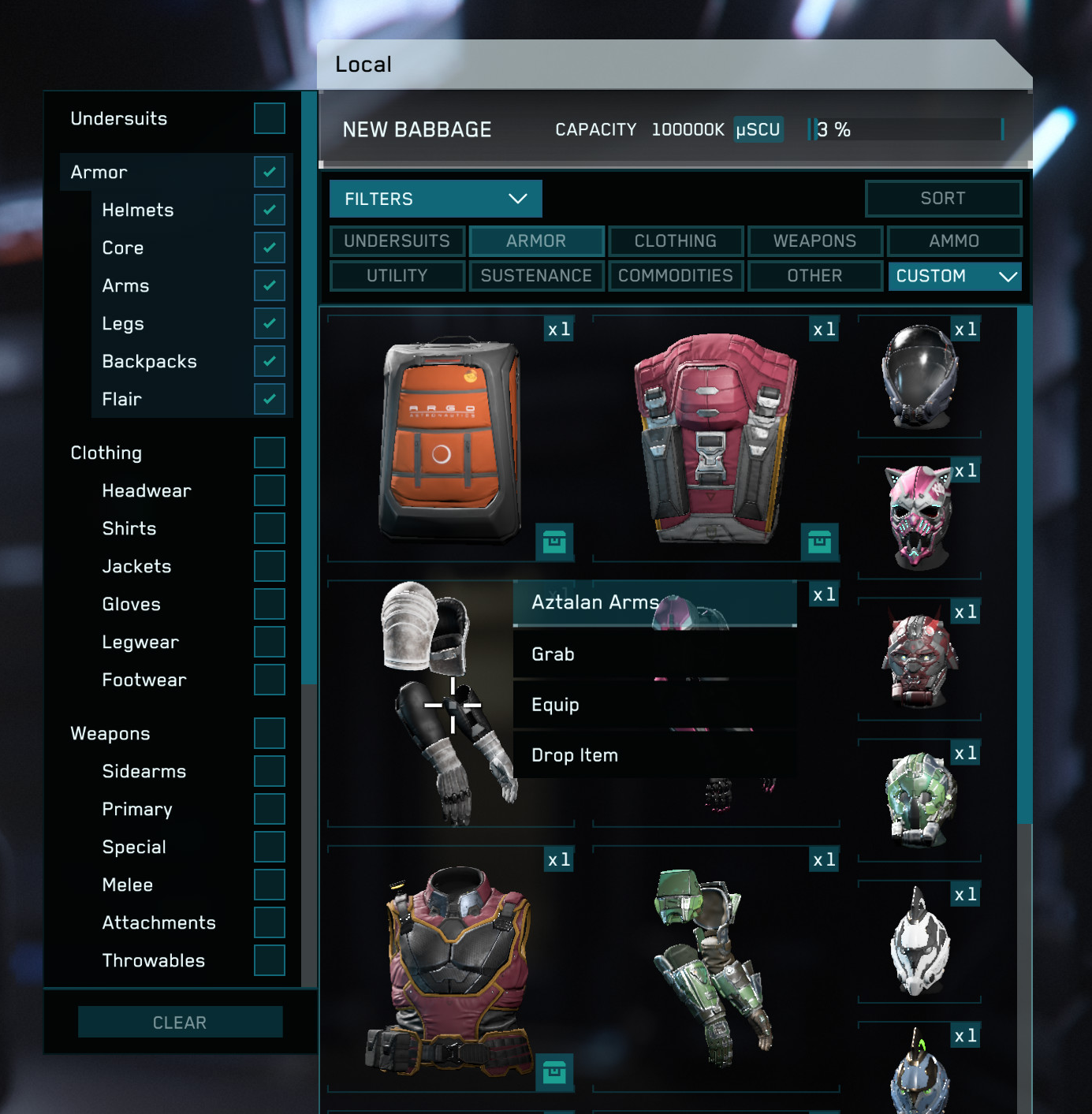 Troubleshooting Your Gear
Certain Options Not Available
While there are not too many restrictions or requirements, there is one important piece of gear that you will need to ensure that you pay attention to: the undersuit. Notably, other options may not function properly or may be missing entirely from the inventory equip options depending on if you are wearing your undersuit or not.
If you are not wearing an undersuit, armor and helmets may not be available to equip.
If you are wearing an undersuit, clothing options may not be available.
If you are not wearing leg armor, the Weapons > Utility Item may not be available.
Location Matters
Depending on where your character is physically located, certain options for storage and item access will change. The biggest change is whether or not you are located in one of the major cities or not. You will have access to something called Local Inventory while in a major port or a space station associated with one that will allow you to safely store things to prevent losing them should you die.
Being aboard a ship or vehicle that allows for storage will also grant access to Ship/Vehicle Inventory. If other players are on the ship as well, they will not be able to access items you place in this storage location. However if the ship is destroyed anything left here will be lost and available to pickup by anyone.
As mentioned before, check out our dedicated Personal Inventory guide for a more detailed looks at these options.
Equipping Weapons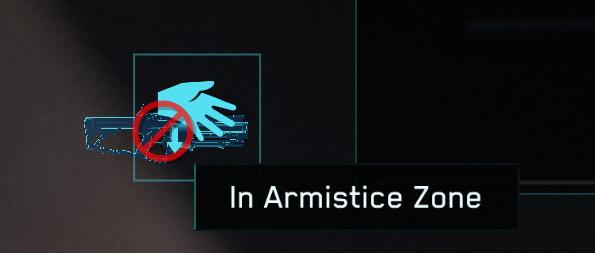 If you are in an armistice zone, you may see this indicator when attempting to equip and carry a weapon.
To adhere with the local law you will not be able to have weapons readied in these zones and so equipping certain items may be restricted while here. If you want to take something for use later, move aboard a ship and transfer the weapons to the Ship Inventory for changing your weapons once you are out of the armistice zone. Alternately, if it will fit in other inventory spots, such as a backpack or leg/torso armor storage it can be freely placed there instead.