Pro-tip: To get the most out of your weapons, armor, and other equipment, you must equip them first.
The mobiGlas Equipment Manager
After a shopping trip, or perhaps a raiding party to acquire new stuff, to put it to use a player will need to equip the items in order for any of it to be of any benefit. This can be done via the Equipment Manager app located within the mobiGlas. The Equipment Manager app looks like this once it has been opened: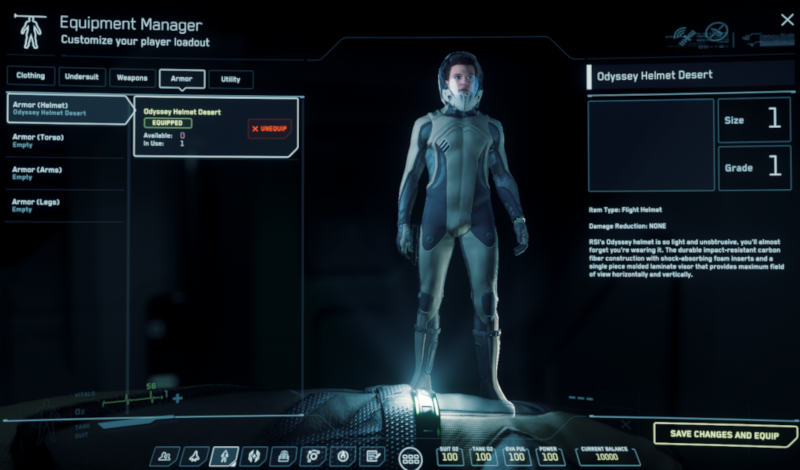 To get your gear set up:
Press F1 (the default keybinding) to open the mobiGlas.
Click the person icon (the third button from the left) to open the Equipment Manager app.

Navigate through the available equipment types across the top to open the list of available equipment slots.
Select the equipment slot from the list on the left to view any available items that apply on the right.

Click the items to view details on the far right of the interface, on the other side of the character hologram.

Click the EQUIP or UNEQUIP button as needed to swap gear.
After setting any equipment or item changes, click the SAVE CHANGES AND EQUIP button on the lower right to finalize the load out.

Save Your Work!
The last step is important, as if the Equipment Manager app is closed before saving changes, any load outs that were altered will be reset to what is currently equipped. The app will also have some warning icons in a few spots to help players. Below are images of the warning icons after selecting to remove the helmet that was equipped.

The red highlighted icon on the left will be displayed in the equipment list and warning message on the right will be on the item details panel above the "SAVE CHANGES AND EQUIP" button.
Troubleshooting Your Gear
While there are not too many restrictions or requirements, there is one important piece of gear that you will need to ensure that you pay attention to: the undersuit. Notably, other options may not function properly or may be missing entirely from the Equipment Manager windows in the mobiGlas depending on if you are wearing your undersuit or not.
If you are not wearing an undersuit, armor and helmets cannot be accessed and may not be visible.

If you are wearing an undersuit, clothing options may not be available or visible.
If you are not wearing leg armor, the Weapons > Utility Item slot will not appear.