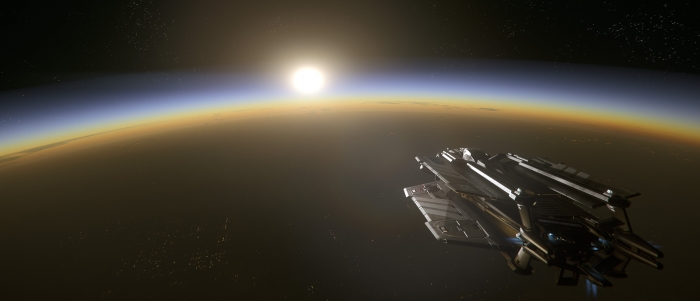 After a journey in the black, the next step is to land your ship. There are a variety of locations in Star Citizen, such as Outposts and Cities, that offer services for you and your ship. This guide focuses on these key locations, however, outside of these locations players can land and travel at their leisure across the surface of planetary bodies using the same principles in this guide.
Be sure to read the How To Quantum Travel guide to ensure you are competent in travelling between locations before proceeding with our landing guide.
No Fly Zone
Certain locations in Star Citizen (particularly Cities) have No Fly Zones, areas of the planet or city that players are not able to fly within. The No Fly Zone is shown as a colored grid on the perimeter of the restricted area, and your autopilot will, in certain circumstances, try to steer you away from these areas should you get too close. We recommend that you be aware of and proceed with caution when approaching a No Fly Zone.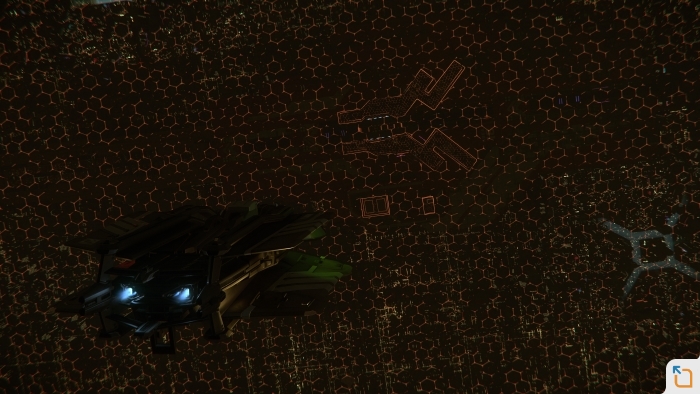 Request authorization to land
Major locations such as Area18 and Lorville require authorization to land, where the local Landing Services will assign a landing pad, bay, or hangar, depending on the size of the ship you are piloting and availability. Typically, a ship needs to be within 5km-7km of the location you will be landing before the Landing Services appear in your Comms list.
Note: Outposts and other locations may not have Landing Services, in which case you can simply land on an available pad.
To contact the local Landing Services, you can use either your ships HUD or MobiGlas. We've outlined both methods below:
Ship HUD
Most ships have multiple HUD's (Heads Up Display) that display a variety of information, and we can switch between these on the display itself. On any of your ships HUD's there is a menu button in the top left. Holding F, Select Menu in the top left of any HUD, then select Comms. If you are within hailing distance of the Landing Services, the option to contact them will appear on the list: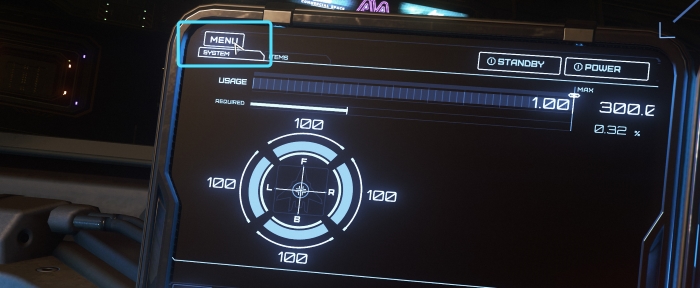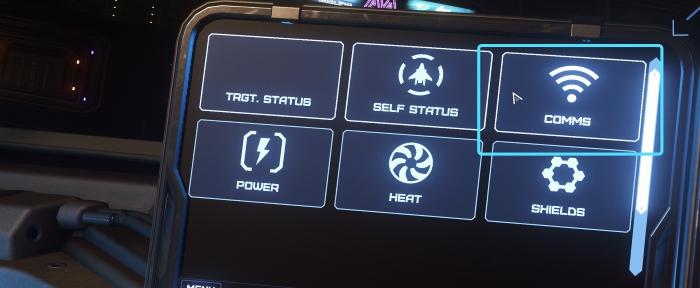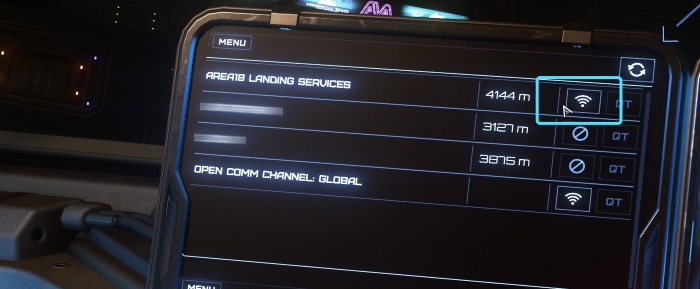 MobiGlas
Your MobiGlas is your personal assistant, and allows access to your inventory, contracts list and, among many other things, your Comms channels. To access the Commlink page, hit F11 on your keyboard and the page will immediately appear on your MobiGlas. As long as you are close enough (Within 5km-7km) of the Landing Services, they will appear on the left hand menu under the Contacts menu. Select the arrow next to the Landing Services to hail them.
Landing in the designated area
Landing Services may put you on hold if they are busy. Once authorization has been granted, a new icon will appear in your HUD designating the location of your pad, bay, or hangar. As you proceed towards your designated landing area, you will see which type it is (pads and hangars are typically landed on or in vertically, where as bays are flown into).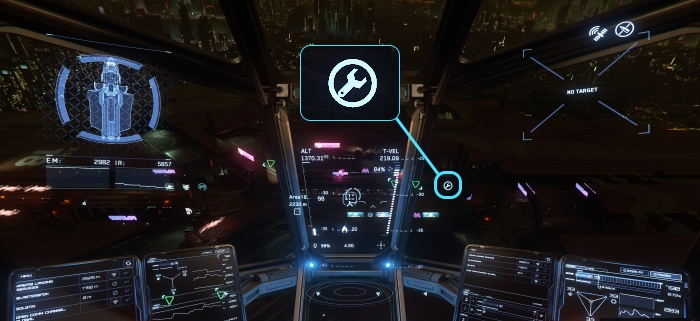 Remember: Lower your landing gear!
Be sure to lower your landing gear by pressing N, the default key bind. Otherwise, you're going to have a bad time!
Proceed toward the designated landing area with caution and navigate the No Fly Zone. As shown earlier, this area will be highlighted surrounding areas and buildings within it in your ships HUD. The example below shows a designated bay with its hangar door open, and the highlighted area surrounding the bay is the No Fly Zone.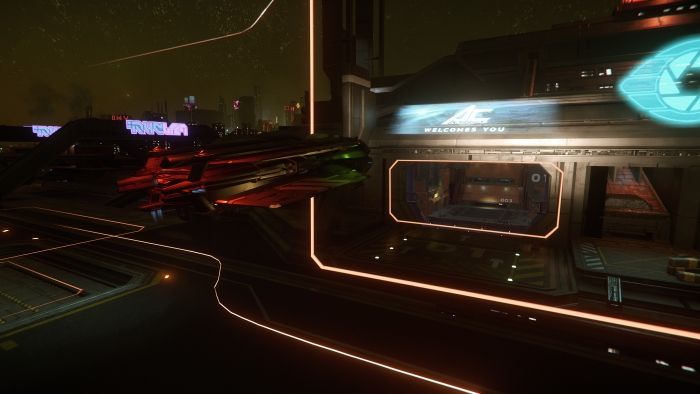 Land your ship as close to the center of the pad as possible and turn your systems off. Upon successful landing you will receive a message from Landing Services confirming you have landed, and that you may proceed to leave the ship.
Turn around, marvel at your majestic landing skills, and proceed to explore your landing location!