When a pledge has been reclaimed, it is removed from your account and store credit is attributed to spend on the store. If the pledge is not limited in its nature, it may appear in your Pledge Buy Back queue.
The Buy Back tool is a list of reclaimed pledges you can buy back. Some of these pledges may include rare and limited run ships. The use of store credits requires possession of a Credit Buy-Back token which is explained further below.
How to buy back a Pledge
When you buy back a pledge, you are buying the original pledge. If you upgraded the ship before reclaiming (or melting), those upgrades were stripped away and must be reacquired separately. When you buy it back, you won't receive the upgraded ship.
Only one pledge may be bought back at a time. If you wish to recover multiple reclaimed pledges, you will need to do separate transactions for each of them.
Visit our site and login to Account.

In your account, click the My Hangar tab, then click Buy Back Pledges.
Review the list of reclaimed pledges to find one you want to buy back.
Click Buy Back and complete the order. The pledge is returned to your account and available in game.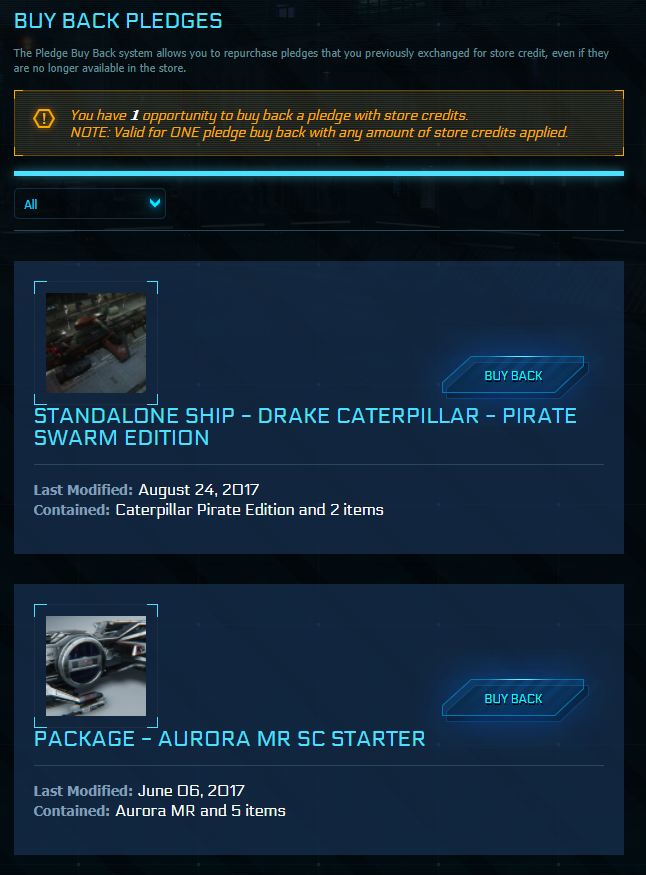 Not everything can be bought back...
Certain pledges cannot be bought back. Be careful when making selections and only reclaim the following items if you do not intend to buy them back:
AMD package
Discounted combo packs
Pledges and packages with physical items attached to them
Squadron 42 Add-on & Star Citizen Add-On Pledges
Upgrades (CCUs) where the ship values have drastically changed to place them above the upgrade values.
Once these pledges have been reclaimed, they are permanently unavailable. During the Reclaim process, we warn you the process is permanent and other details.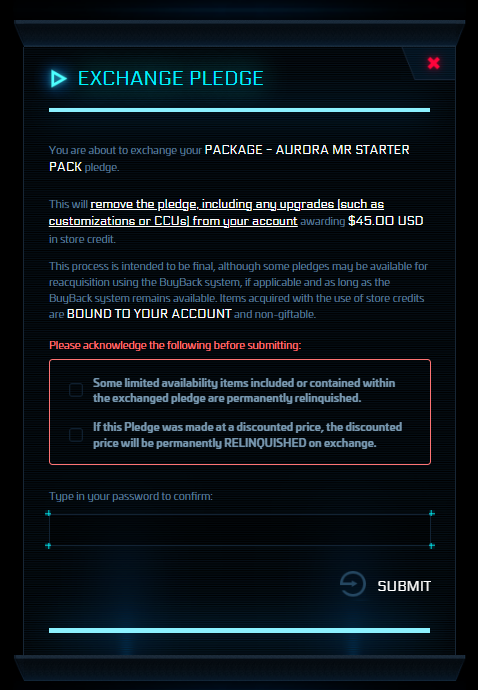 Use Store Credit with a Credit Buy-Back Token
If you hold a Credit Buy-Back token, you will be able to use store credit. For more information on Store Credit, see the guide Using Store Credit.
Tokens are attributed to a backer account every 3 months (90 days), and do not stack. This means that if a token is not used, another will not be attributed to the account.
Tokens are available to backer accounts early in the following months:
January
April
July
October
If a Buy Back Token is available, this will be presented in your Buy Back queue as a yellow notification. During checkout, be sure to apply the Store Credits to your order to use the token.

Upgrade Prices may change!
As with everything else, when a ship upgrade is reclaimed, it is intended to be permanent. The Buy Back system allows you to buy back a pledge or upgrade you regret reclaiming. However, the price of an upgrade may change, potentially costing more when bought back. All buy back upgrades will be presented with the latest prices, not the price you paid when first buying it.
In the rare case that one of the ships associated with the upgrade has increased in price above the upgrade's target value, attempting to buy back the upgrade will result in an error as that upgrade is now invalid. If this is the case, then said upgrade is gone for good and RSI Support cannot assist with recovering it.
Subscriber Coupons
Subscriber discounts applied to pledges when they were first acquired will not apply to items in the buy-back queue. You will need to pay full price to recover these or use another subscriber coupon to receive the discount again.
Discounted Pledges from Promotions and Sales
Like pledges acquired through the use of a subscriber discount coupon as noted above, pledges and packages that were originally being offered with a discount will not retain their discount when bought back.
| | |
| --- | --- |
| | This includes any item acquired during a sale that was offered at a temporarily discounted pledge price. All packages and ships discounted at checkout can only be bought back at their full original price, which is indicated by the red box on the left. |