The Hangar Module is currently a game mode found in Star Citizen's Alpha Universe that provides you with a private area to view and modify your ship loadouts.  

 Important! As we continue to develop Star Citizen, we may include numerous changes to the hangars, sizes, features, access, and more! 
What do I need to access the Hangar Module?
To access the Hangar Module, you must have a Roberts Space Industries (RSI) account and a pledge package which includes a ship, a digital download of Star Citizen, and a hangar.
If I only have a stand-alone ship, will I be able to access the Hangar?
Access to the Hangar requires a game package that includes game access. If you've only pledged for a stand-alone ship or stand-alone Squadron 42 pledge, and not a package with game access, you will not be eligible to access the Hangar.
What is the minimal package necessary to access a Hangar?
There are two starter game packages available: the Aurora MR SC Starter package and the Mustang Alpha SC Starter package. You can purchase any of the game packages through the online store.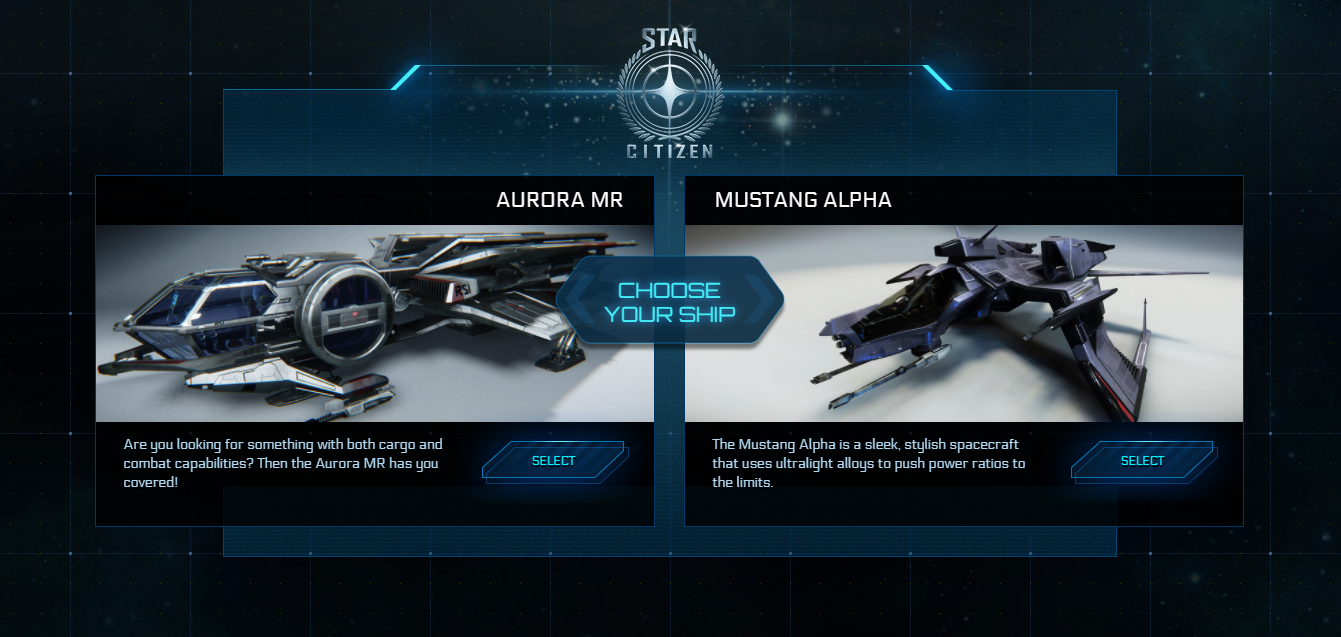 Where can I find my Hangar?
Players can find their hangars through the game. The type of ship in your game package and standalone ship purchases set the tier of hangar. The larger the ship, the larger the hangar. You will have access to the highest tier hangar included in your pledges and all hangars below that tier.
Launch Star Citizen.
Select Universe.

In the next menu, select a hangar from your available hangar list and click Visit Hangar.
Currently, you have access to any hangar included in your game packages and stand-alone ship purchases. This also opens up any hangar under those tiers.
 
How do I spawn a ship?
The hangar has an interaction point that looks like a blue dot on the ground. Move to these points and zoom in to see the ship size allotted. 

Bring up your MobiGlas in this place to select a ship from inventory.

When you select a ship, move aside and check out your ship!

As you near your ship, blue points display to modify those sections.

What types of hangars are available?
Hangars come in four tiers:
Self-Land is the most basic hangar
Aeroview
Revel & York

VFG

 Industrial hangar, built into an Asteroid 
Will I be able to upgrade my hangar to a higher tier?
Yes, hangar upgrades can be pledged for in the Roberts Space Industries store under Extras. Also, if you purchases a standalone ship with a larger hangar, you will be upgraded to that tier of hangar to support that ship size.
Can friends visit my hangar?
Currently, we do not provide the ability for multi-player access to the hangars. Only you can access your hangar and affect ships and flair in it.
How many ships can I store in my hangar?
Each hangar has a limit to how many ships it can house at one time. Certain hangars also have certain limits to how large of ships they can house. The following list shows: the slot size of ships (x how many can be placed).
Self Land: 
Size 2 ships (x 3)
Size 3 ships (x 2) 
Size 4 ship (x 1) 
Aeroview:
Size 1 - 2 ships (x 3)
Size 3 ships (x 2)
Size 4 ship (x 1)
Revel & York:
Size 1 - 2 ships (x 6)
Size 1-2 ships (x 3) + Size 3 ships (x 2)
Size 3 ships (x 4) 
Size 3 ships (x 2) + Size 4 (x 1)
Size 4 ships (x 2) 
Size 5 -6 ship (x 1)
VFG Industrial:
If we reclaim or gift certain ships, do we lose that hangar?
If you reclaim or gift a ship package containing a hangar, you may lose access to that tier of hangar. However, if you pledge for a standalone hangar upgrade from the RSI store, you will have access to that tier of hangar regardless of which ships you own or changes in the game.
Prior to the official game release, if you lose or gift a ship your hangar may reduce in size. Purchasing an upgrade will lock your hangar to at least the size of the purchased upgrade.
Where will my hangar be located in the 'verse?
When the full version of Star Citizen releases, your hangar will be physically located at a particular starting location of your choice. Currently, hangars exist in a private instance, only accessible to you.