Ship Rentals in the Universe
Ship rentals are now available at various locations around the Star Citizen Universe. Rental terminals, as shown in the picture below, can be used by citizens to rent a ship for a period of up to 30 days.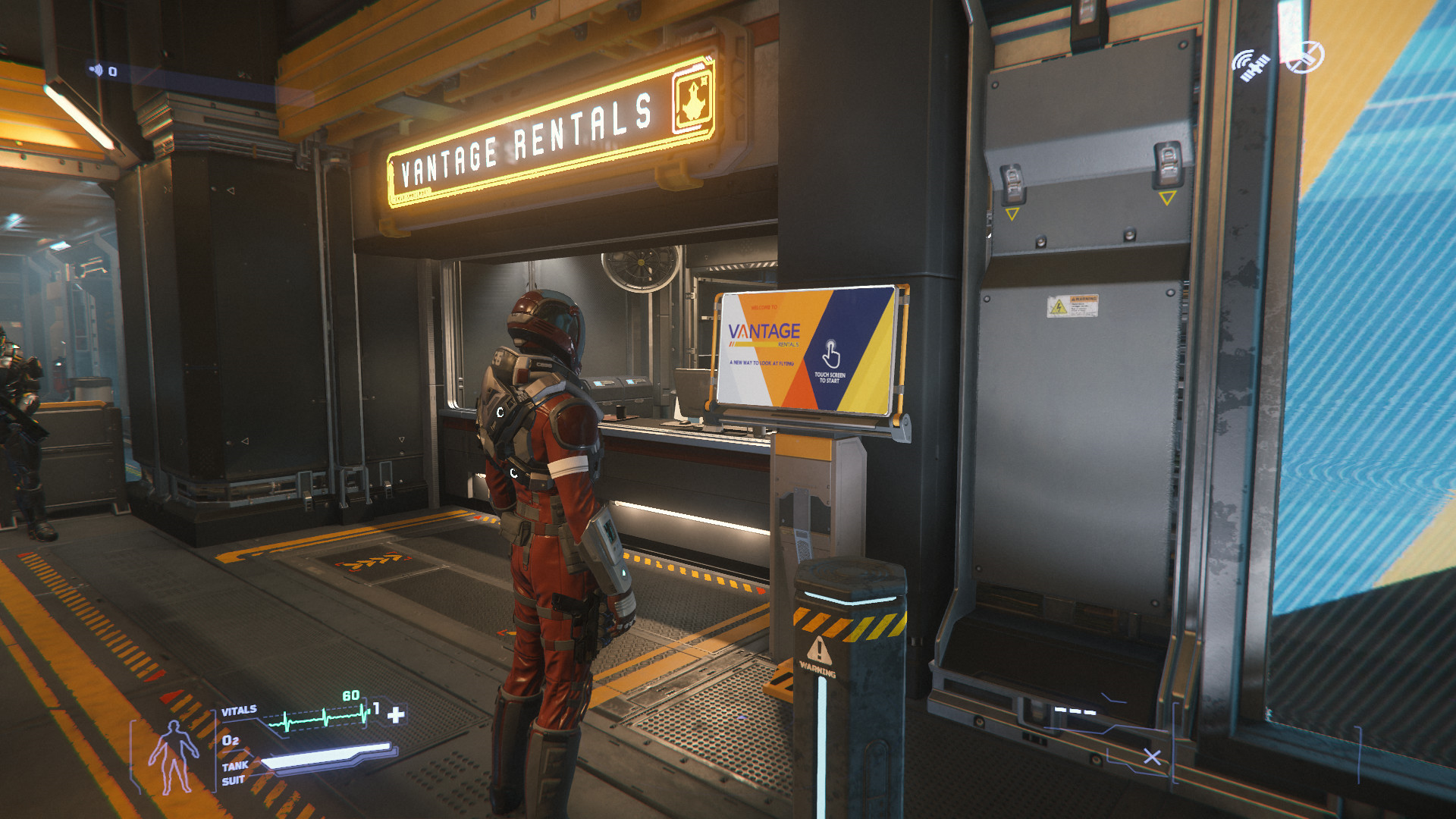 Rental terminals can be found in all major spaceports across the Star Citizen Universe. Simply walk up to a terminal and interact with it and make your selection, followed by the duration of the rental.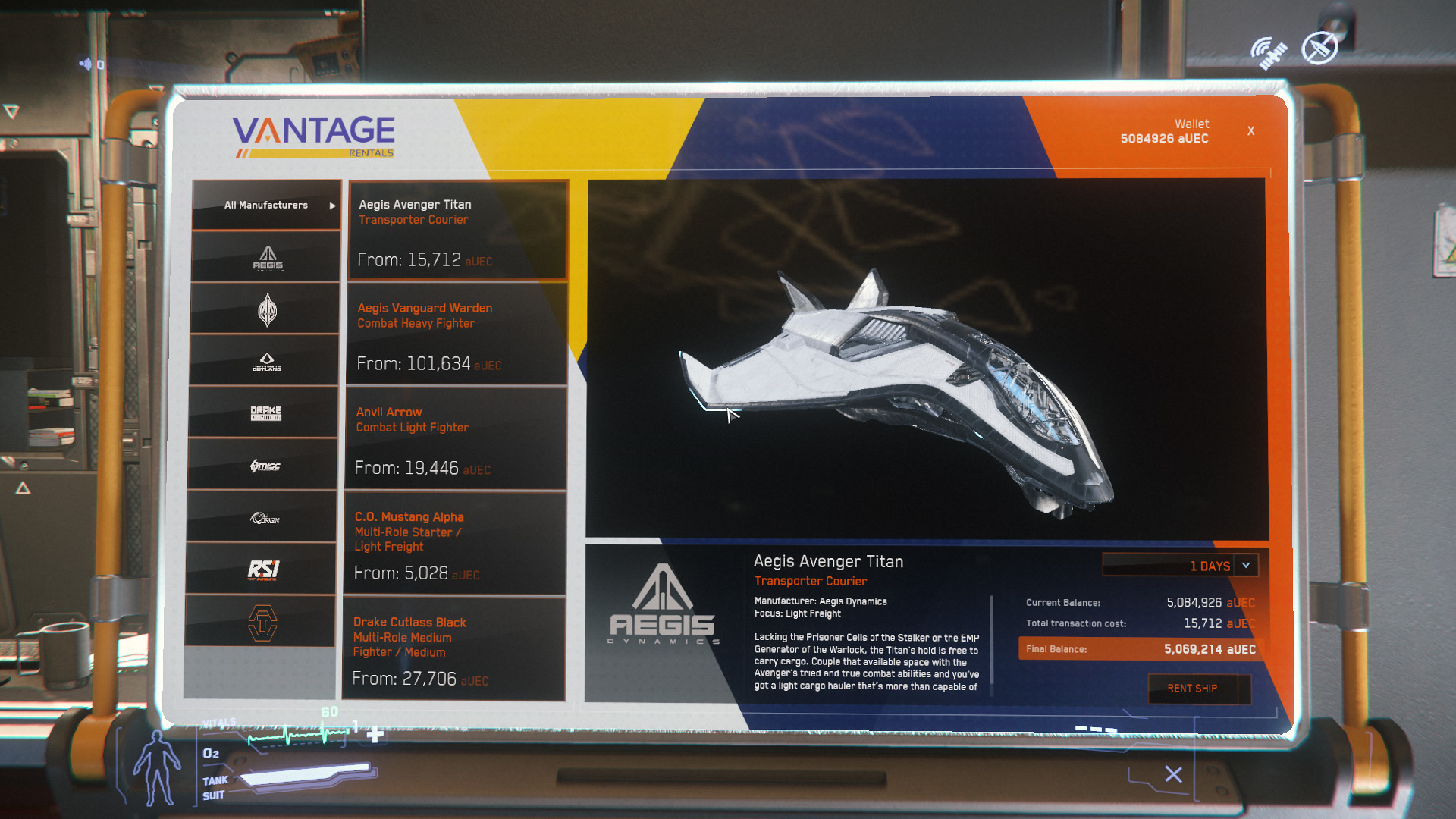 Unlike in Arena Commander, rentals in the Universe will cost aUEC.
Once you have rented the ship of your choice, simply access a ship retrieval terminal to select your rented ship and enjoy your flight!
Rental times
Renting a ship in the Universe will differ slightly to renting a ship in with REC in Arena Commander. If a Citizen rents a ship for 5 days in the Universe, the timer will start immediately from the moment the ship was rented, and continue to countdown after logging out of the game.
In Arena commander, each unique day the ship is used, the rental timer will deduct one day. If the ship is not used, it will not deduct time as per the Universe.
Renting Ships in Arena Commander
What is REC?
Rental Equipment Credits, or REC, is a type of Virtual Currency that you can earn in Arena Commander multiplayer and that can then be spent to try out ships and equipment for a limited time.
To review all available currencies, see Currencies of Star Citizen (UEC/aUEC/REC/Store Credit).
How do I earn REC?
Anyone with a Star Citizen digital game key has access to Arena Commander. Players can earn REC by playing any multiplayer game mode, with the exception of 'Free Flight'. The amount of REC you earn in each match is displayed at the end of that match, with more REC being awarded for better performance in the match.

Where can I see my earned REC?
You can check out how much REC you currently have through the Account section on the main web site.
Visit our site and login to Account.
The currencies display under your avatar and handle.

You can also review a detailed log of your REC through your Billing and Subscriptions.
Where and What can I rent?
If you have REC, you can spend it by selecting the SELECT/RENT SHIP option from the Arena Commander main menu.

A suite of starships, primarily of the fighter and racing varieties are available for rental. While a few small cargo ships are also available, ships requiring a crew to operate cannot be rented for use in Arena Commander game modes. In addition to ships, most weapons and missiles, as well as a selection of components can be rented.
How long can I keep my ROMs?
Once rented, ships, weapons, and components can be used for three 24-hour periods. These days do not have to be consecutive. Keep in mind that all 1-day tokens are consumed upon loading any Arena Commander game mode regardless of whether or not you actually use the items.
Where can I manage what I've bought?
All of your rented ships and equipment can be managed directly through the Arena Commander game module. Select the Ship Customization option to view your current equipment including rentals. Alternately, the Select/Rent Ship menu is where you can view and manage your ships, both pledged for and rented. There you will see which ROMs you have, which are unused, and how much time remains on each.

IMPORTANT: Any ROM with less than 3 day-tokens remaining can be extended by 3 more days, at 80% of the original price. There is currently no limit on the number of times you can extend a ROM.

Where can I use my ROMs?
You can use rented ships within all Arena Commander game modes. The weapon and component loadouts of rented ships can be changed from the Ship Customization page on the Arena Commander main menu.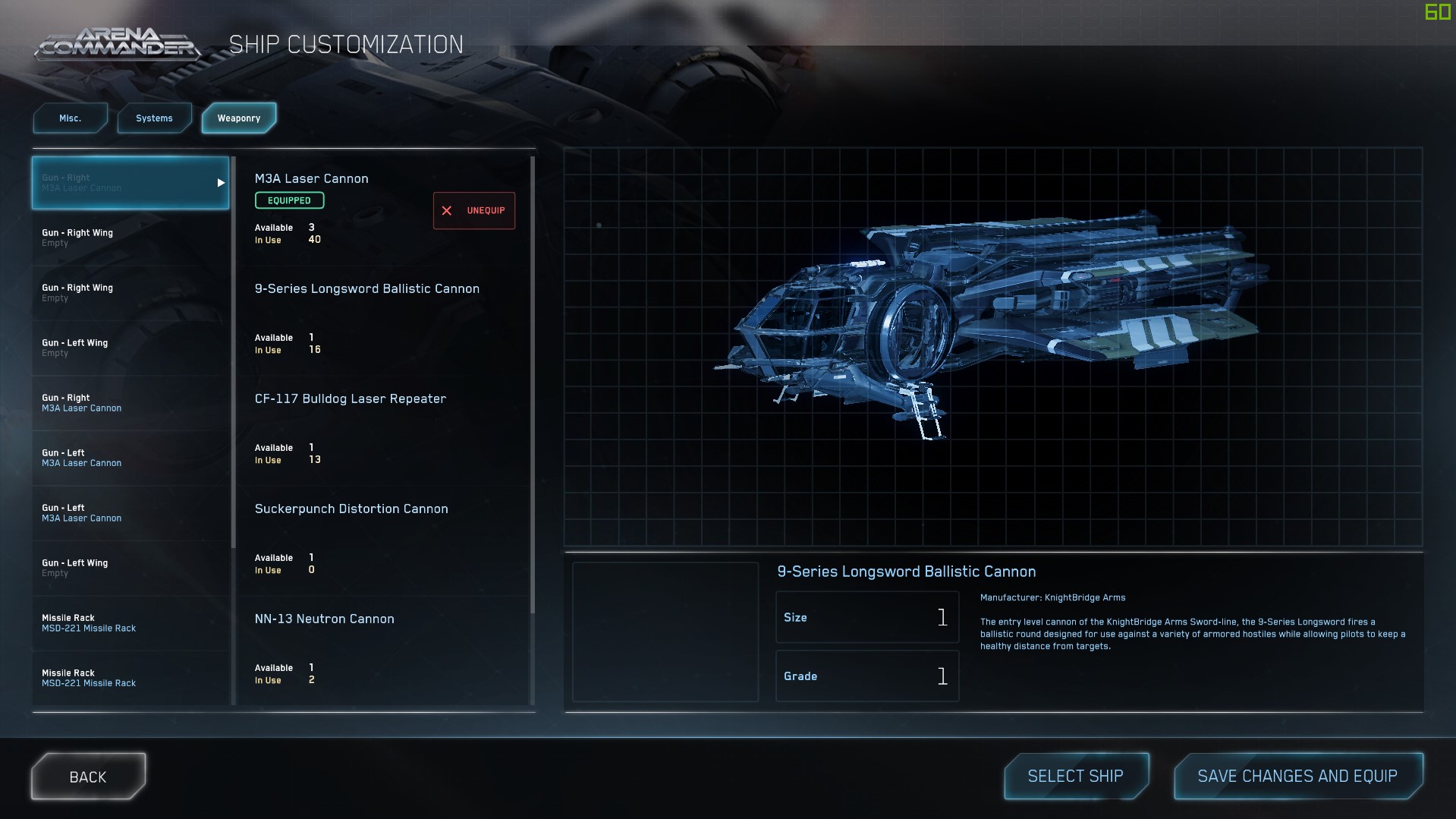 Important: Any rentals made in Arena Commander cannot be used in the Persistent Universe. Renting ships within the PU is done using aUEC, not REC.
Can I refund or gift my ROMs?
No – purchases using REC are non-refundable and non-giftable. You can easily earn REC through Arena Commander and competing in races if you need more.