During the Alpha phase of Star Citizen we will be using aUEC (Alpha United Earth Credits) during testing. This allows for the economy to be balanced, and we reset the servers during major patch launches which resets the aUEC balance and any items bought with aUEC. Eventually, UEC will be used (United Earth Credits) which appear on players accounts via the website. For further information regarding Currencies, see the Currencies of Star Citizen guide.

In Star Citizen Alpha patch 3.3.5, we added the ability for players to purchase ships with their hard earned aUEC. Currently there are three locations this can be done - Teach's Ship Shop in Levski that hides among the canyons of Delamar, and the New Deal Ship Shop in Lorville, and Astro Armada on ArcCorp. This guide will use Teach's Ship Shop as an example, including where it is located in Levski and how ships can be purchased.
Open the mobiGlas with the F1 button, and view the Star Map. Levski is a deserted mining facility located on Delamar, a moon-sized asteroid. Double click Delamar to zoom into the moon, then rotate the image using your mouse until you see Levski. Select Levski, then hit Set Route at the top of your screen to confirm the route.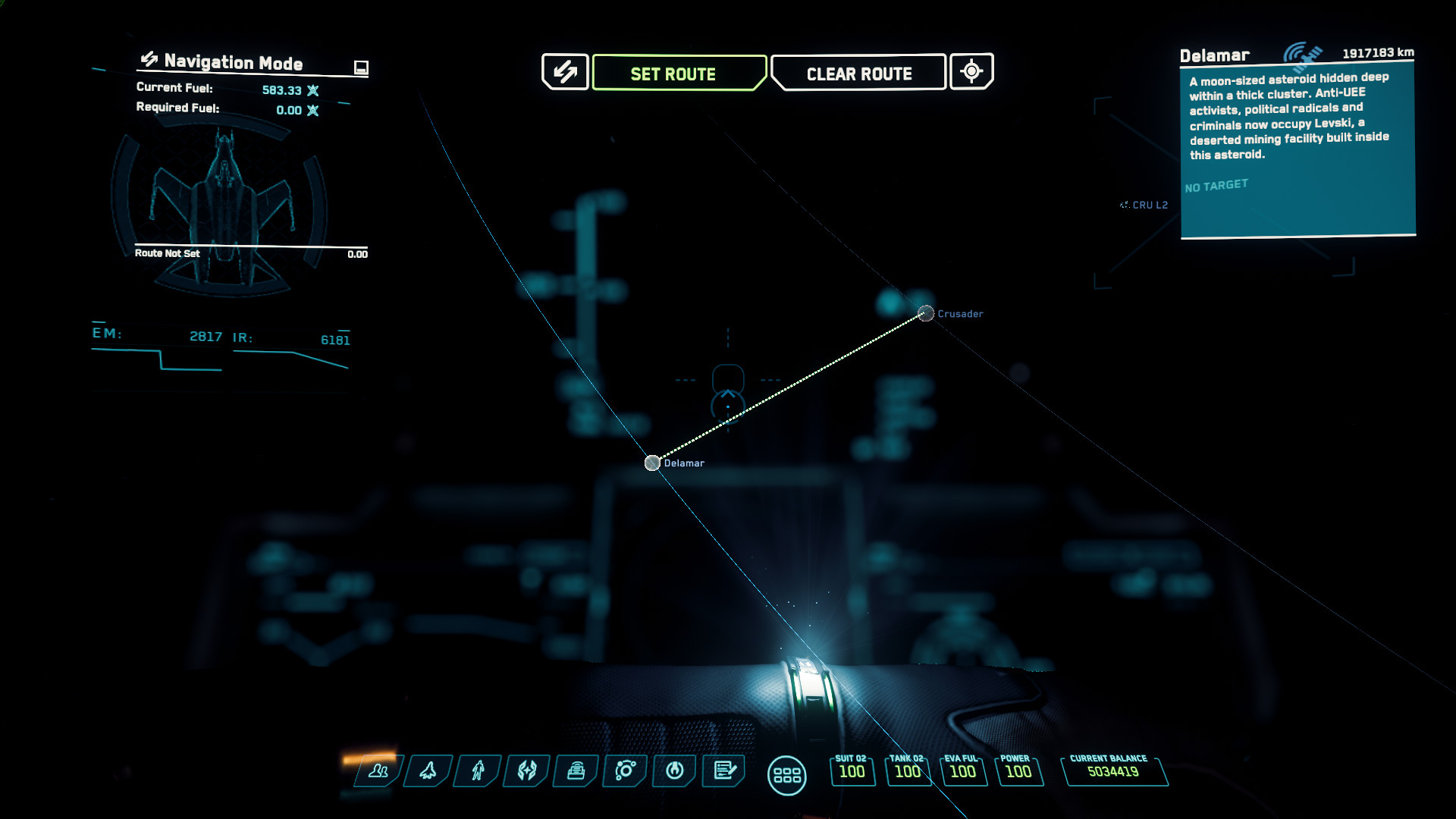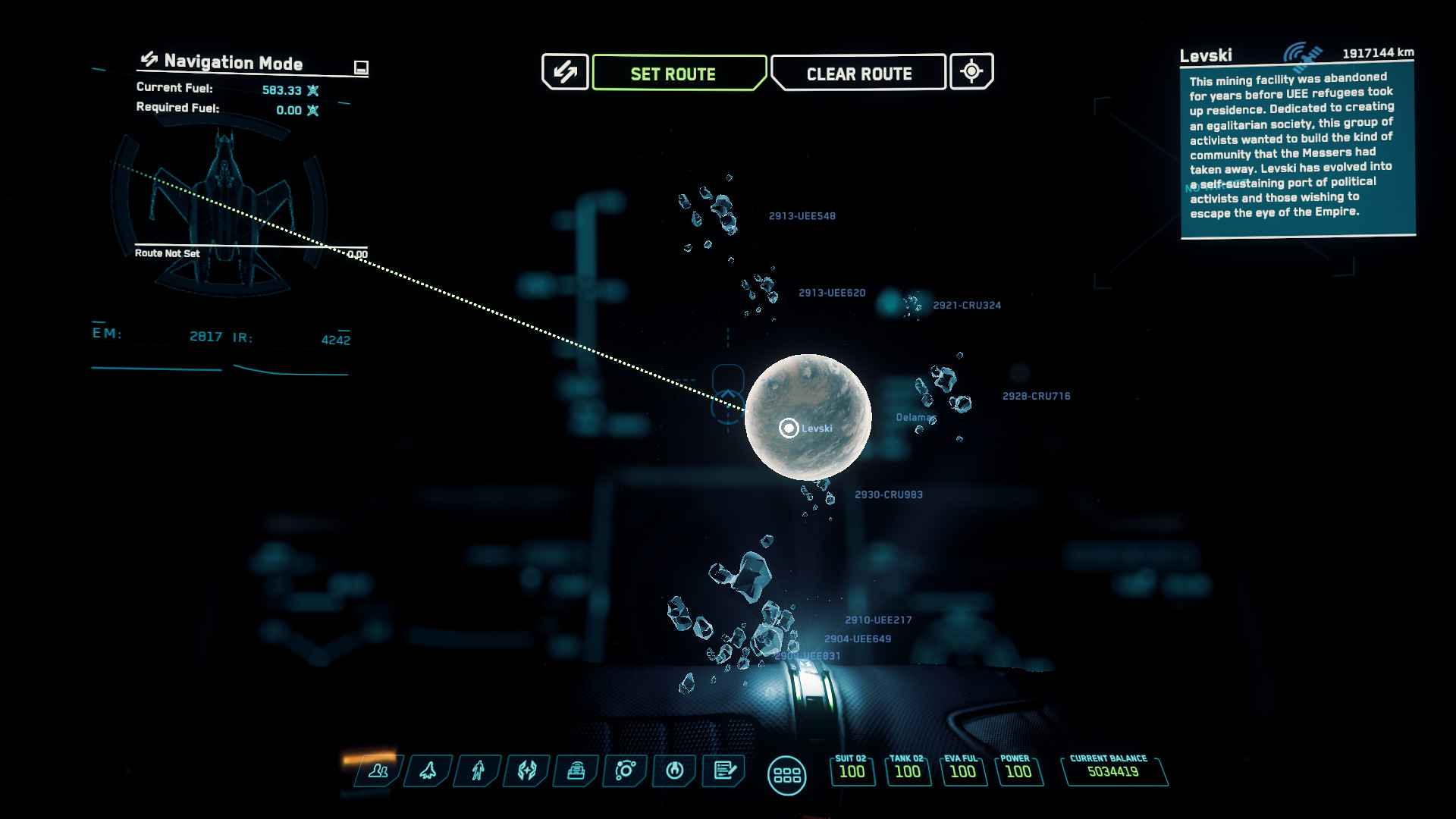 Exit your mobiGlas by pressing F1. Point your ship in the direction of the marker displayed in your HUD. Automatically, your ship will begin to calibrate the jump. Press B to begin spooling your Quantum Drive, and when both are complete, press and hold B to jump.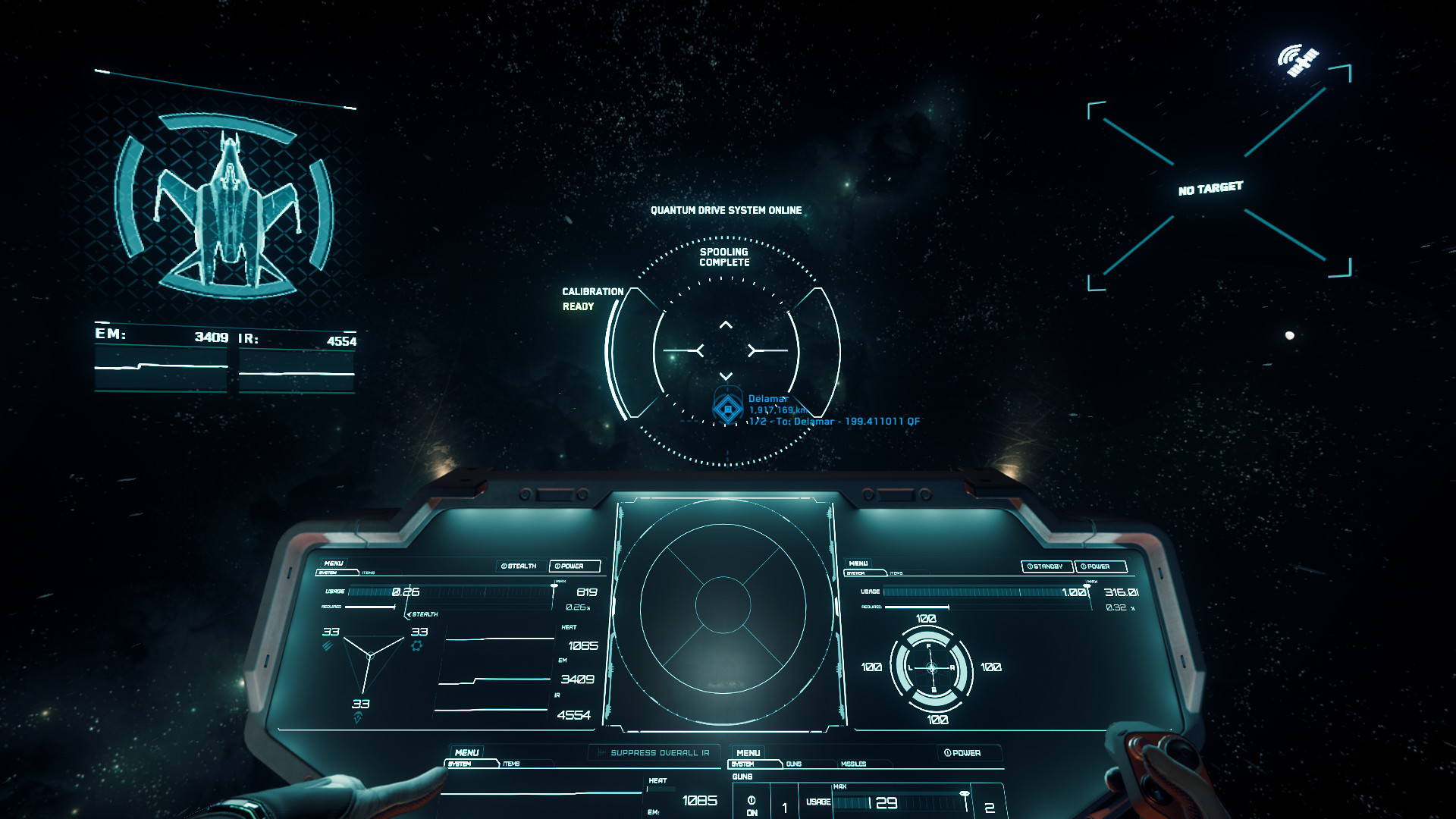 Arriving at Delamar, rotate your ship until your second navigation marker shows Levski. Again, your ship will begin to calibrate the jump. Press B to begin spooling your Quantum Drive, and when both are complete, press and hold B to jump to within 60km of Levski.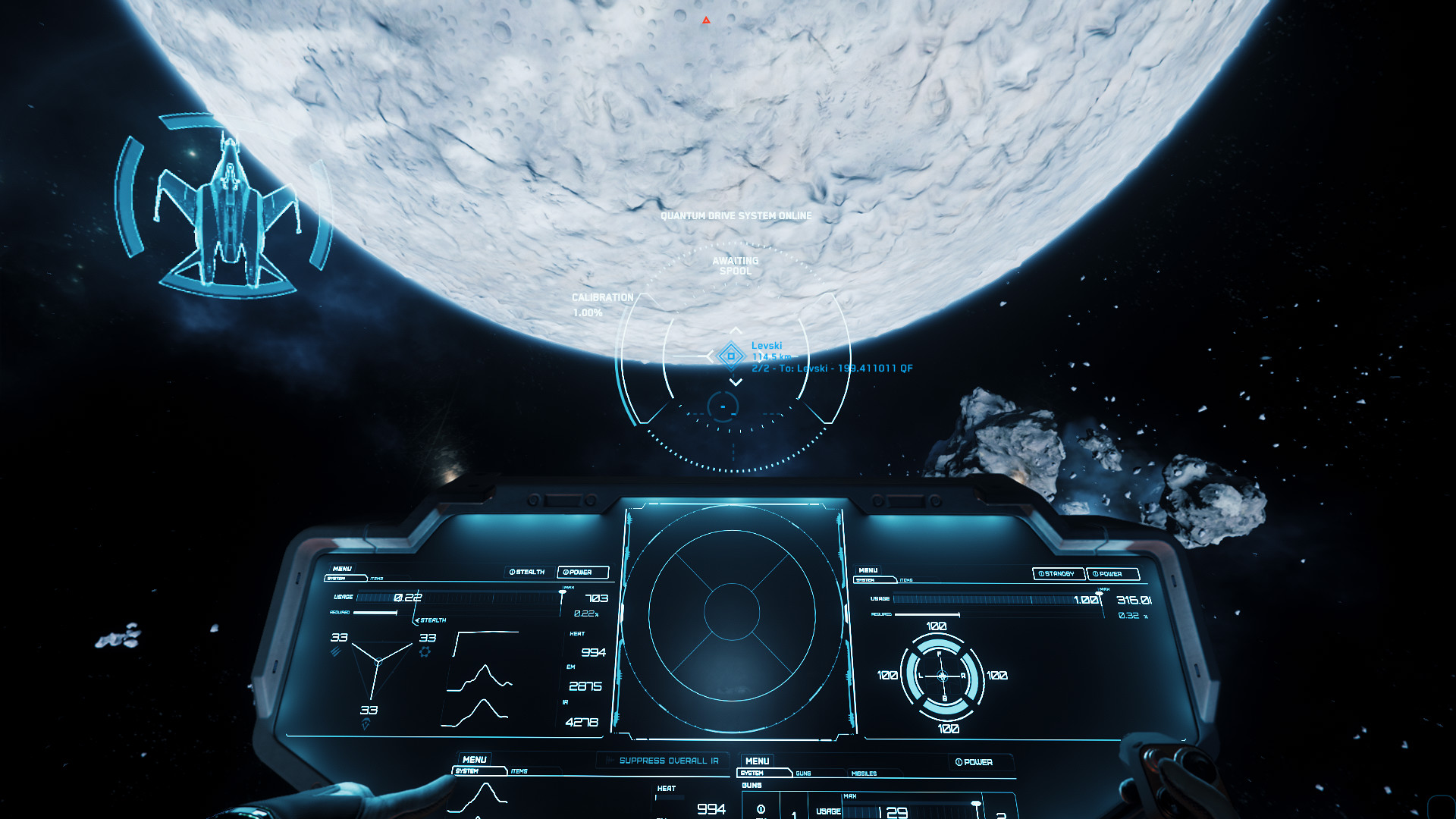 Fly down to Levski - if you find it difficult to navigate, Press B and this will bring up the Quantum Travel marker for the location. After approaching the station, activate precision mode by Pressing N. This will lower your landing gear and decrease your speed to that appropriate for landing your ship.
Now we need to ask for permission to land, and to be assigned an appropriate landing pad. Press F1 to bring up your mobiGlas, then select CommLink (Furthest left icon in the bottom toolbar). Select Contacts from the top left menu, then hit the contact button next to Levski Landing Control. The friendly Landing Control representative will assign you a landing pad, or if they are full you will be put into a queue.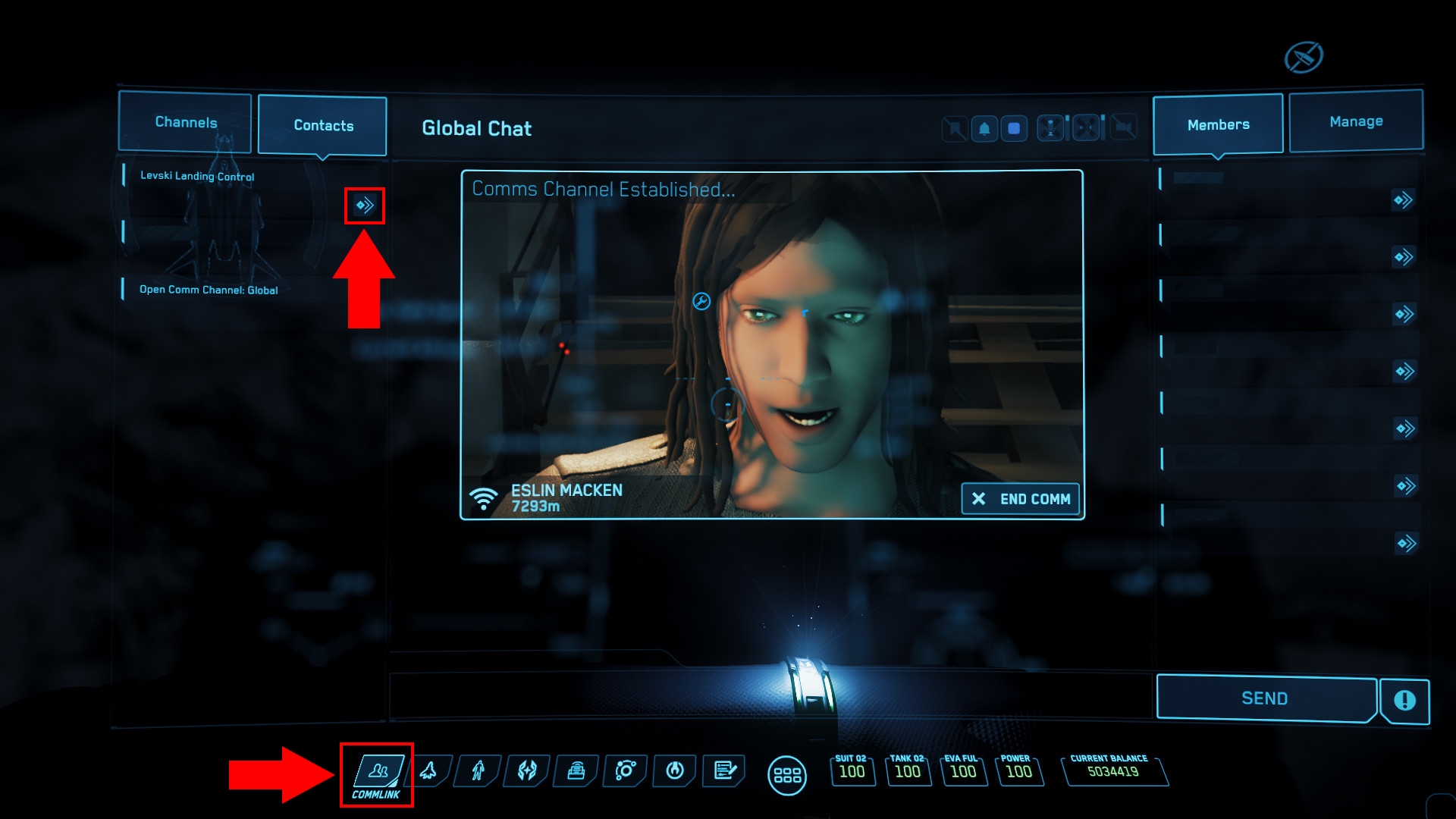 Approach the pad which will be highlighted green inside the hangar and have a spanner at its location. As these hangars are built into the rock, they require a vertical landing. Maneuver your ship over the top of the pad, then hold N to auto-land (or manually land with CTRL).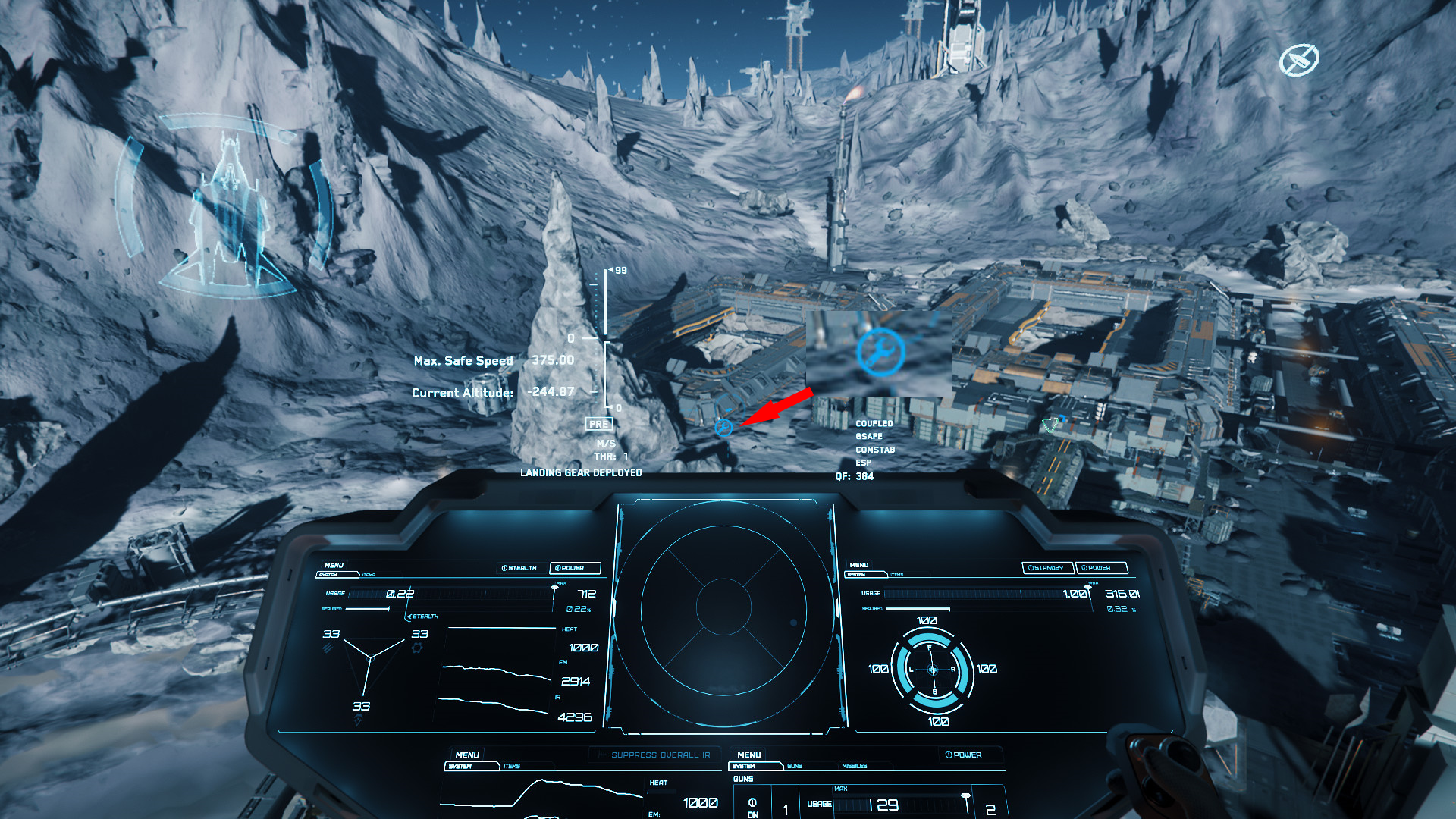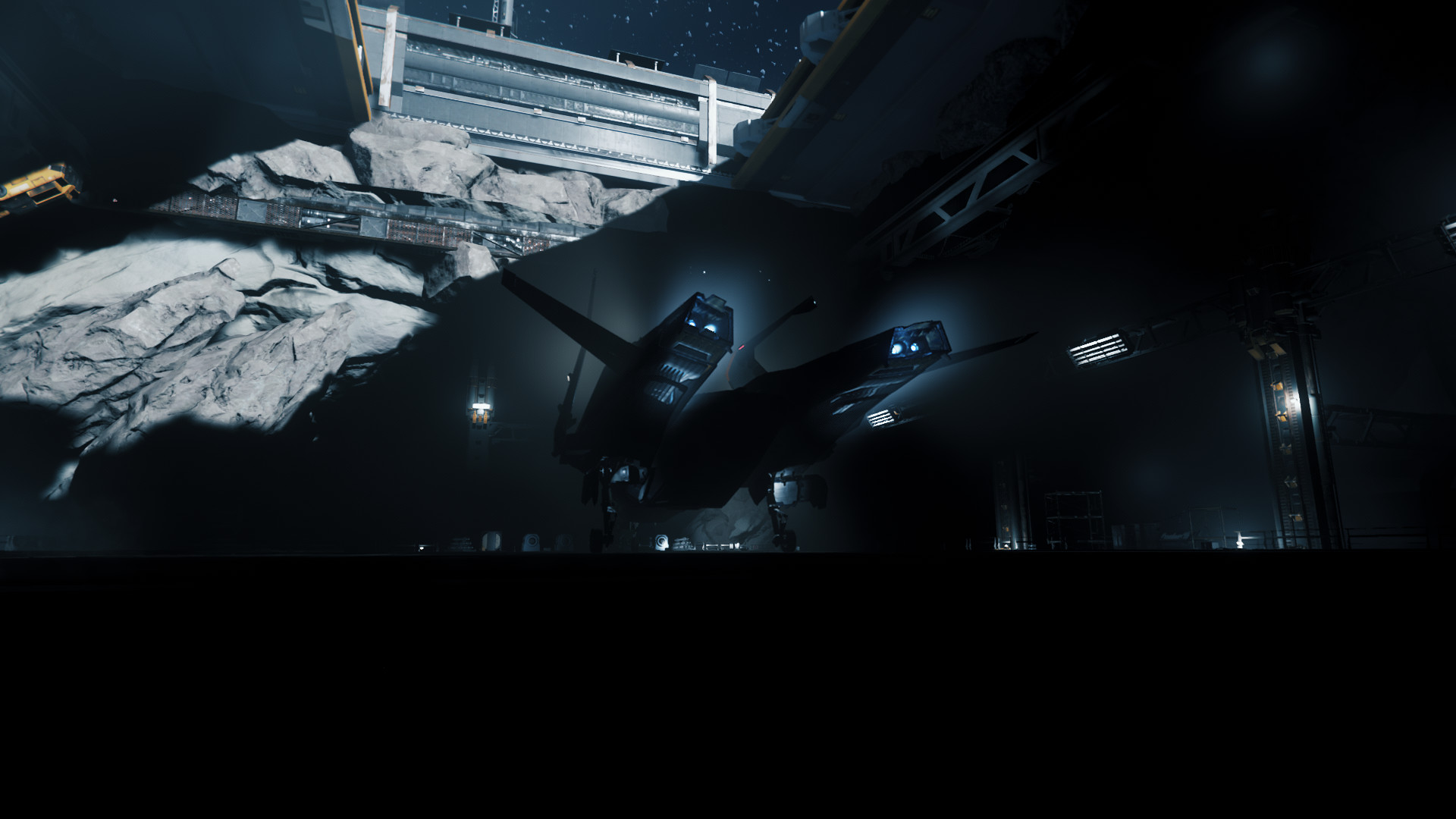 The hangar exit should be lit up to one side of your ship and this is a protected elevator leading to customs. Walk up to the elevator, Hold F and select Call Elevator on the interaction panel, then when the elevator arrives, Hold F again and select To Customs.
Arriving at Customs you will see there are several Ship Spawn terminals, and behind these terminals in the corner is the elevator to Teach's Ship Shop.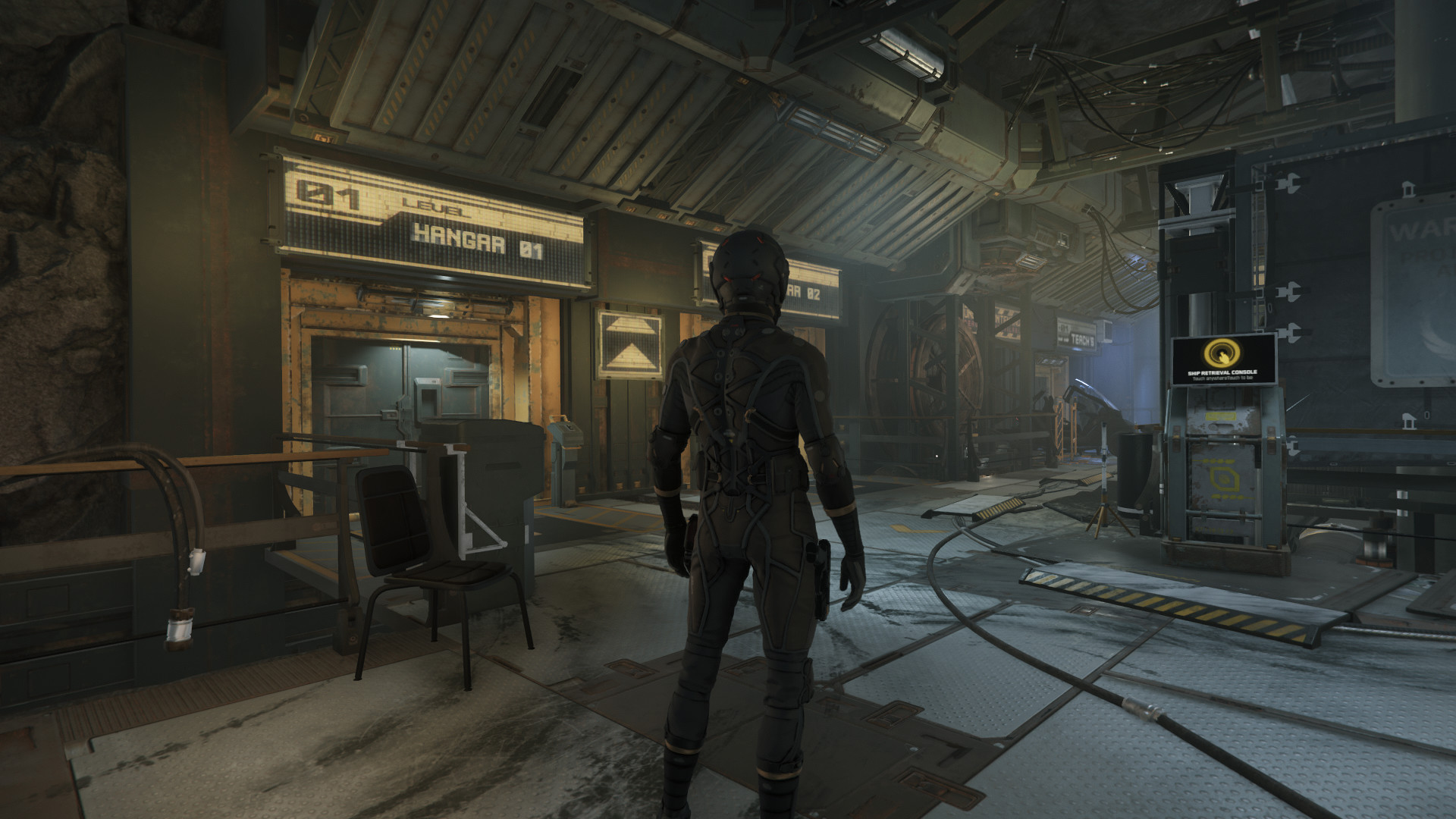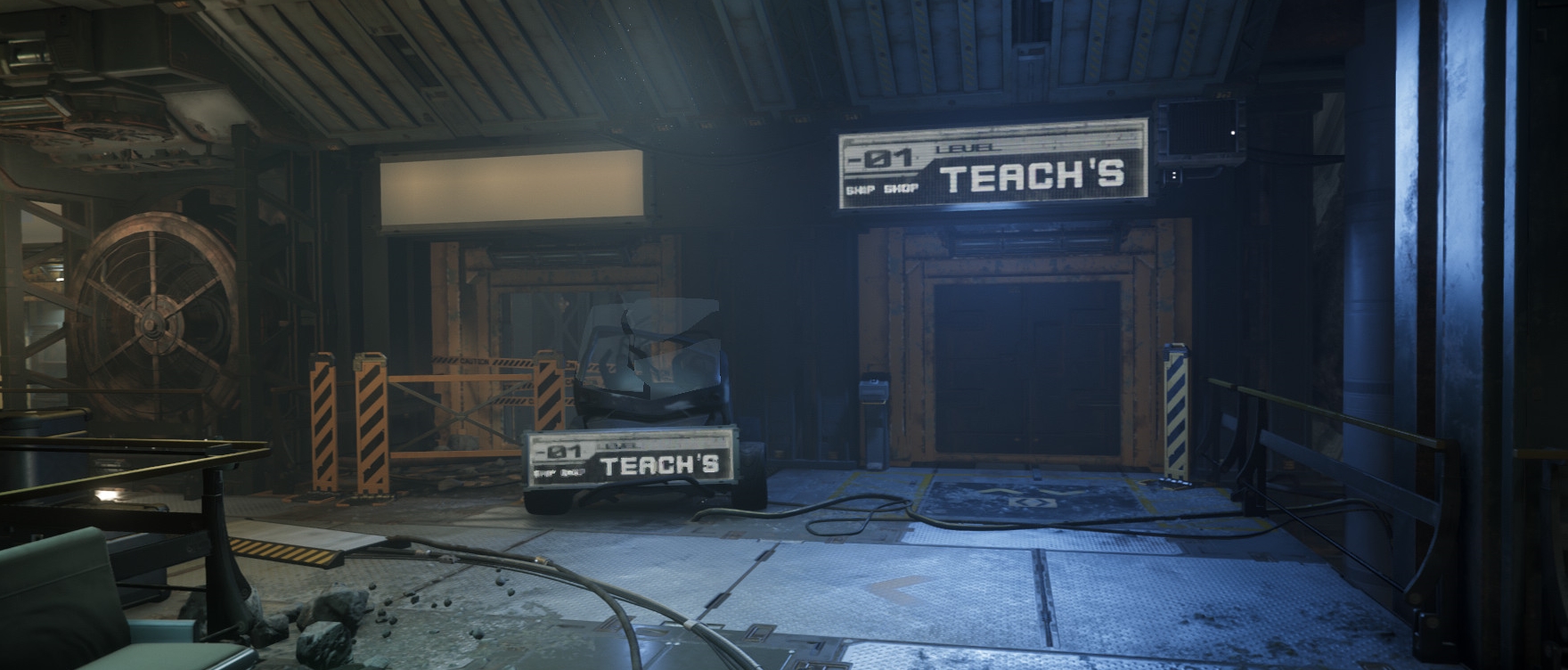 As before, call the elevator by Holding F, then when the elevator arrives select Teach's Ship Shop from the interaction panel from within the elevator.
You have arrived! Welcome to Teach's Ship Shop! Be sure to walk around and admire the ships that are on offer, and remember you can interact and walk into each ship before you buy!
To buy a ship, simply walk up to it, Hold F and select the ship. You will be presented with a description, your balance, the price of the ship and your remaining balance after the purchase. Go ahead and click Confirm Purchase to complete the purchase of your new ship!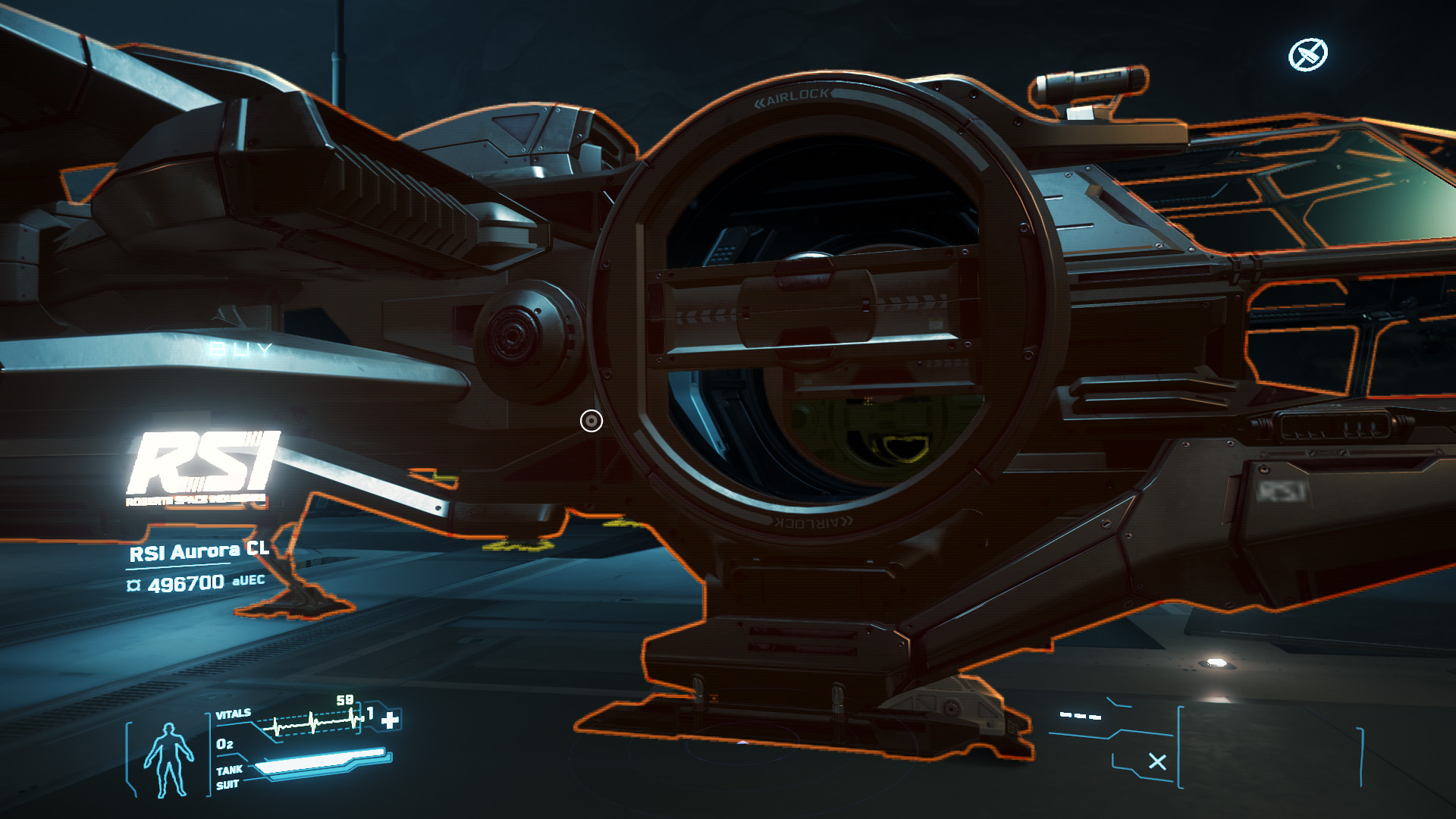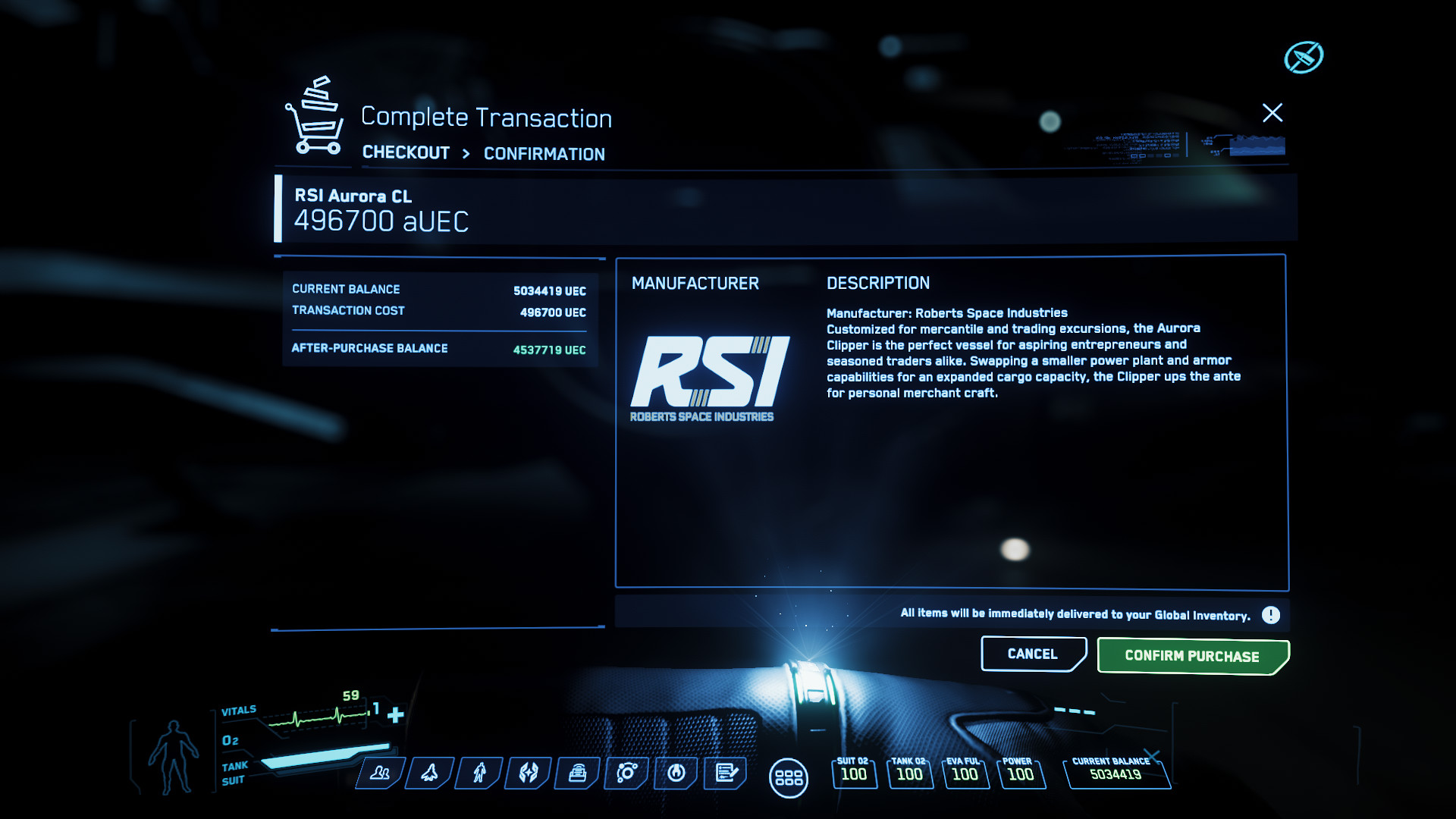 Astro Armada Terminals
With our 3.6 Patch, we've also added Astro Armada terminals to each of the ship shops currently available in Levski, ArcCorp, and Lorville. These are functionally the same as purchasing from the show floor.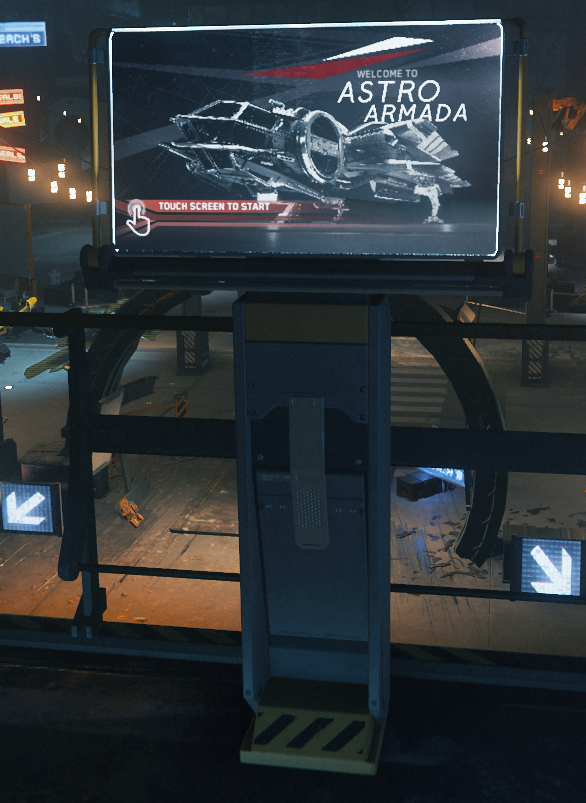 You'll be able to view all purchasable ships from these terminals sorted by manufacturer, and they'll be available from an ASOP terminal immediately after purchase.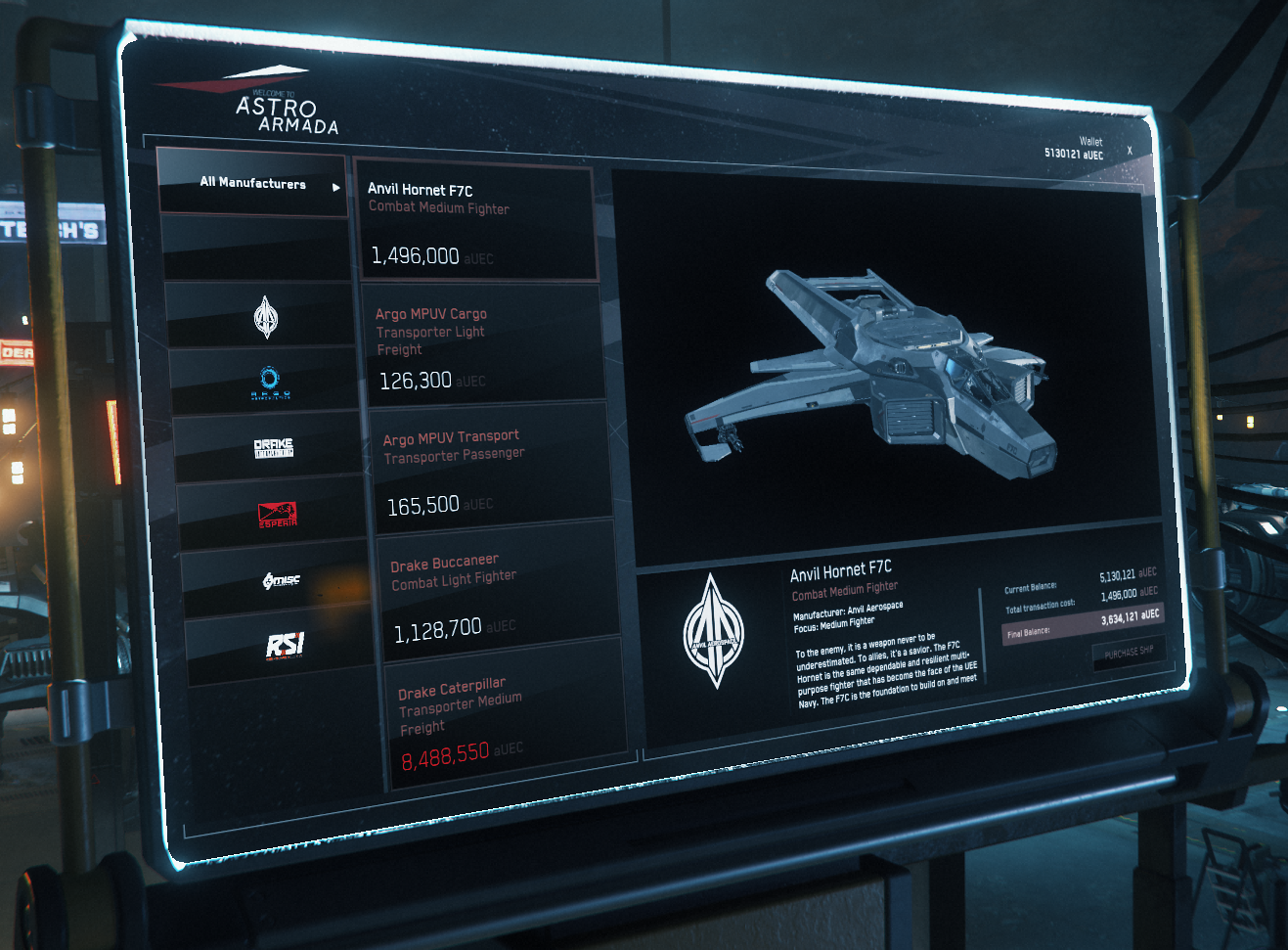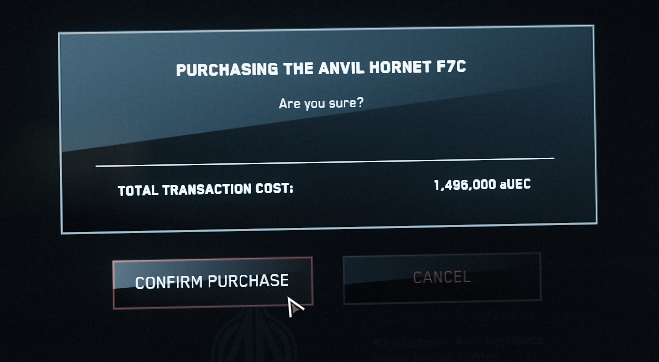 Once the desired ship is selected, you'll receive one final confirmation before the ship is available to use.
After you've made your purchase, your new ship will be available for use at your nearest ASOP terminal.