The Star Citizen Referral Program allows you to invite friends to join the Star Citizen Project. Anyone registering with your personal code will automatically get 5,000 UEC, and whenever one of your recruits becomes an active player by obtaining a Game Package and spends a minimum value of $40 USD on the Pledge Store, you will get a Recruitment Point. These points unlock rewards automatically!
Check out more information on the Referral Program page.
How do I find my Referral Code?
Check the Referral Program Page to find your referral code and the recruitment rewards. When you want to recruit friends, watchers of your streams, and so on, you can provide a link or the code.

How do I share the code with my friends?
The preferred method to share your code is via a URL link. Simply add your code at the end of this URL:
https://robertsspaceindustries.com/enlist?referral=
When they click the link, the Enlist account creation page opens with your code already added to the page. If the player has already created and logged into an RSI account, this URL will take them to the RSI website home page.
Alternatively, they can enter the code when creating an RSI account. During the account creation process, they will be asked to enter a Referral Code as part of the process.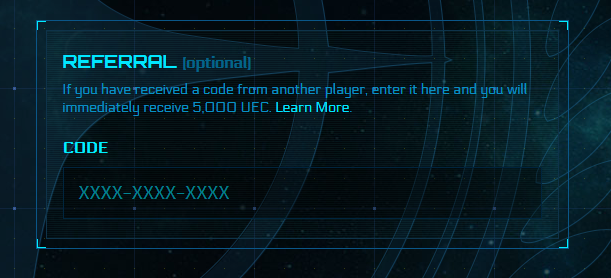 IMPORTANT! They must add the code when creating their account. No one can add that code after the account is created.
RSI Support Agents will not be able to assist with adding a code after an account has been created.
Can my friend add a Referral Code after creating their account?
Referral Codes must be entered when creating your new RSI account. Once an account is created, we cannot add a Referral Code to your account.
If your friend created their account, but has not made a pledge or accepted any pledges yet, they can ask to have their account closed. We will unlock the Login ID, Handle, and email address used if the account does not have any completed pledges. They can then create a new account using your Referral Code!
When does the referral add to my recruitment total?
Once your friend has created their account using your referral code, they must obtain a Game Package and spend at least $40 on the pledge store. Purchases and pledges made with store credit do not count toward this total. This includes store credit received from claiming a gift card.
Receiving gifts of pledges totaling $40 will not satisfy this requirement.
Special Referral Incentive Events
Occasionally, when a special event is happening in the 'Verse, such as a Free Fly or the Intergalactic Aerospace Expo (IAE), RSI may offer a special reward for players outside of the normal referral reward system. Check the main RSI website for the latest news on current events, promotions, and incentives like this. The most common reward is a ship or similar that will be given to both the new player and the player that referred them during a specific time frame.
To qualify for this, the above notes about when a referral is counted still apply. The referred account must become an active player by spending a minimum value of $40 USD on the Pledge Store during the event period. If the referred account has already surpassed this threshold before the event period, it will not be eligible for the referral reward. The referred player must get their game package (or spend $40 USD minimum) to become a new backer during the event, regardless of when they first created their account.
The rewards for such incentives are typically distributed to both players after the event concludes.
Referral Rewards and Restrictions
Once you have received a reward from referrals, be it from one of the special limited time referral periods mentioned above or from accumulating referral points for the various rewards that way, there are a few things to know about your referral rewards to prevent troubles in the future.
Referral Rewards have a value of $0.
As these items were received for free, regardless of how valuable they may be in form and function, they are considered to have a value of $0 since they were not acquired by purchasing.
Ships and Vehicles that are obtained via Referral Incentives cannot be reclaimed.
Due to the above point about the base referral reward having a value of 0$, the option to reclaim these ships is not available as they have a starting value of zero. This remains true even if a referral ship has been upgraded to something else.
For more information on reclaiming pledges, check out our Reclaim a Pledge article.